Cadbury chocolate block inspired by Tip Top Boysenberry Ripple ice cream now exists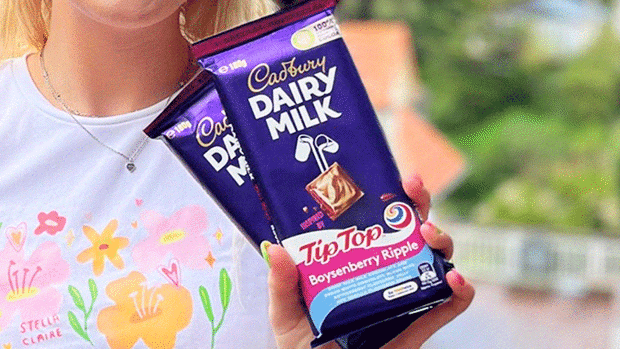 Calling all Boysenberry fans!! We know you're out there and we've got something exciting for you!
Kiwi ice-cream makers have teamed up with chocolate giants Cadbury to create something truly special.
Exclusively on shelves in Aotearoa, Cadbury has launched their Boysenberry Ripple inspired chocolate block.
Inside is a rich blend of Cadbury Dairy Milk chocolate and Cadbury Dream white chocolate lies a decadent core of boysenberry flavoured jelly and vanilla flavoured crème. 
"Throughout the process, we taste-tested many variations of the block to make sure we got New Zealand's much-loved flavour exactly right.
We're really proud of this new collaboration and hope Tip Top and Cadbury fans love the Cadbury Dairy Milk Tip Top Boysenberry Ripple chocolate block too," says Mel McKenzie of Tip Top. 
It's only around for a limited time, so run to your local supermarket, dairy, or petrol station ASAP