Can you spot what's wrong with this Vanity Fair cover?
Publish Date

Saturday, 27 January 2018, 1:58PM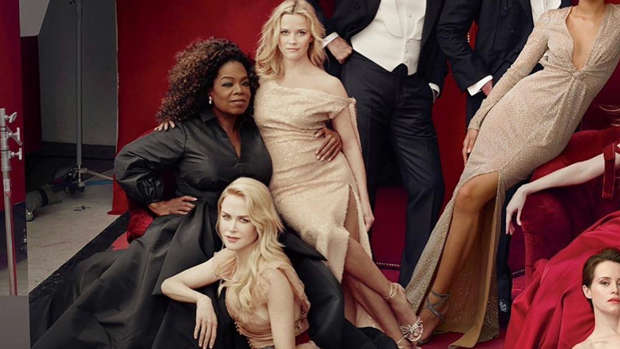 Oprah and Reese Witherspoon got in on the joke after an embarrassing photoshop error by Vanity Fair gave them both extra limbs.
'Well I guess everybody knows now I have three legs', wrote Reese on Twitter after seeing the disastrous job done on the Annie Leibovitz shoot for the magazine's annual Hollywood issue.
She also added for good measure, 'I will never apologize for snuggling' (Winfrey).
Finding it equally amusing, Oprah replied to Reese, 'I accept your third leg. As I know you accept my third hand.'
And for their part, while admitting they made an error with Oprah, Vanity Fair denied they gave Reese three legs, claiming it was an optical illusion caused by the lining of her dress.  
The magazine's 24th annual 'Hollywood' issue had Oprah, 63, posed up for renowned photographer Annie Leibovitz, alongside A-list stars such as Robert De Niro and Nicole Kidman, with Reese Witherspoon sitting on her lap. 
Although the pictures are undoubtedly stunning, there appears to be not one but two major Photoshopping mistakes that went unnoticed before publication. 
In one of the images, Oprah has a hand on her hip, a hand on her lap, and then a third hand wrapped around Reese's waist. 
The two appear to be laughing at something Tom Hanks said, and while Oprah's hands are firmly in front of her, four of her fingers are hugging her A Wrinkle in Time co-star's side.
The blunders was pointed out just hours before Vanity Fair revealed they had digitally removed James Franco from the cover after the learned about his sexual misconduct allegations. 
This article was first published on dailymail.co.uk and is reproduced here with permission.