Carey Hart dubs Pink 'hero of their house' in touching Mother's Day tribute to his wife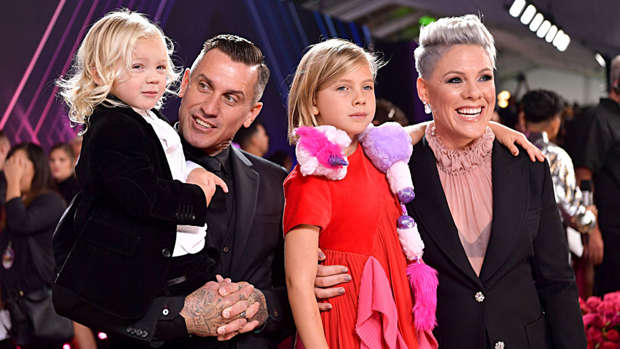 Carey Hart has branded Pink as "the true hero of their house" as they marked Mother's Day.
The professional freestyle motocross competitor took to social media to praise his spouse after her current coronavirus battle and looking after Willow, eight, and Jameson, three.
Taking to Instagram, he shared: "This is a next-level mother right here. The love and attention that she gives to our children, is second to none. Her ability to juggle mother, musician, wife, and friend is crazy!! Through this crazy quarantine and covid infection, she has been the true hero of our house. Jameson has had a rough road with getting sick, and she has been a champion. I'm so proud of you baby for the mother and person that you are. Be proud, and enjoy your Mother's Day. And yes, I had to draw pants on Jameson since we can't keep clothes on him ... I love you baby!!!! (sic)"
Last month, Carey opened up about how scary it was when Pink and their son Jameson battled the deadly Covid-19 virus.
The retired motocross star said: "It was intense. They both got extremely sick. My son probably got the worst of the two of them and it debunks the whole theory that this only hits old people."
Hart, 44, explained Pink - whose real name is Alecia Moore - "got it pretty bad" as she already suffers from asthma, which affects her breathing.
He added: "She has asthma and it totally attacked her lungs and her chest. She was having a hard time breathing."
Meanwhile, Pink opened up in a candid interview with Ellen DeGeneres about the entire experience with Covid-19.
Explaining how Jameson fell ill first, she told talk show host: "At a certain point around March 18, March 19, March 20, when his fever was staying and going up. I woke up in the middle of the night and couldn't breathe."
The 40-year-old star's breathing became so difficult, she required a nebuliser - a device which turns medicine into an inhalable mist - "for the first time in 30 years" and "couldn't function without" her inhaler.
She admitted: "That's when I started to get really scared."
Pink's son then began to complain of "chest pain" and experienced breathing difficulties.
She recalled: "That's the point where you are just kind of like, OK are we going to the hospital? Like what are we doing right now? Because this is the scariest thing I've ever been through in my whole life."
- Bang! Showbiz