Cheating husband gets embarrassing tattoo FAIL on chest while attempting to earn wife's trust back
Publish Date

Wednesday, 9 January 2019, 1:44PM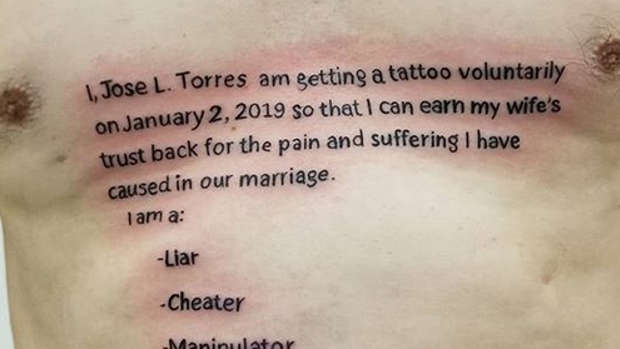 There's no denying we all secretly enjoy seeing someone else's tattoo fail.
Misspelt ones, in particular, are brilliant.
And this latest one does not disappoint.
After being caught cheating on his wife, Jose L. Torres decided the only way to win her trust back was to get a large and embarrassing tattoo across his torso.
Starting at his chest and going to just above his belly button, the tattoo reads: "I, Jose L. Torres am getting a tattoo voluntarily on January 2, 2019 so that I can earn my wife's trust back for the pain and suffering I have caused in our marriage."
It continues: "I am a liar, cheater manipulator, deciever, whore/prostitute lover, dishonest and disrespectul."
And yes, the words "deciever" and "disrespectul" are both spelt incorrectly.
The photo was shared on social media by tattoo artist Jorge with the caption: "Nothing like some nice lettering to start the year."
It has since attracted a lot of attention, with many users mocking the tattoo.
"Wow, such courage, I guess not all heroes wear a cape, some are actually tattooed," one person joked.
"Don't trust people with warning labels in comic sans," another added.
READ MORE:
• Hilarious tattoo fails will make you cringe and laugh at the same time
• Woman left with huge jet black eyebrows after botched tattoo
A third wrote: "Lol disrespectul and deciever hahahahahhaha poor man."
"Divorce is easier and less painful," was another comment.
Other's called the tattoo "awful" and claimed he was an "idiot" for getting it.