Covid-19 Chris Hipkins give update on mystery Auckland case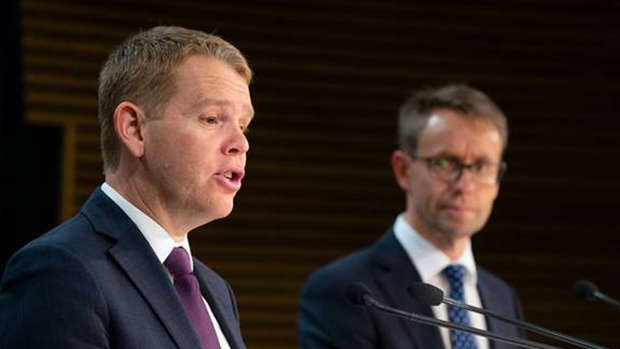 The mystery case of Covid-19 has been genomically linked to the Defence Force cluster and there are no new cases.
Covid-19 Response Minister Chris Hipkins and director of public health Caroline McElnay are due to hold a press conference at 2pm.
The conference was delayed by an hour to wait for more pieces of information. Results of the genomic testing were due this afternoon.
It's understood there has not been a Cabinet meeting which would indicate the Government was considering a change in alert levels and Hipkins said yesterday it would be the Prime Minister who would announce it if that were the case.
This morning Hipkins said early results from the genome sequencing showed the mystery Auckland case might be linked to the November defence force cluster.
He said that was "incredibly, incredibly encouraging".
The new community case, a woman in her 20s, was reported yesterday sparking an investigation into how she might have been infected with the virus.
There were no immediate obvious links to managed isolation, overseas travel or the border.
She felt ill on Monday, got a test on Tuesday but went to work and wore a mask at A-Z Collections on High St after a conversation with her manager.
Auckland CBD workers were today encouraged to work from home and those who live in the area have been advised to limit their movements and contact with others.
As well, New Zealanders are being asked to:
Wear face coverings on public transport, planes and in places physical distancing isn't possible.
Use the Covid Tracer app wherever you go.
&bull Stay home if you're sick, isolate and get a test.
Wash your hands and cover your mouth if you sneeze or cough.
It was also revealed today the woman, who is an AUT student, didn't go to classes but was at the City Campus Student Hub - an information hub for students - from 2.30pm to 2.40pm on Tuesday.
She also visited several locations:
These include:
Smith and Caughey's on Queen St on Saturday November 7 (3.50–6pm).
Red Pig Restaurant, Kitchener St on Saturday November 7 (6-8.30pm)
Takeaways from Starbucks Queen St and from Sunnytown Restaurant on Sunday November 8 (11.30-11.45am).
Takeaways from The Gateau House on Queen St on Sunday November 8 (6.40-6.50pm)
Takeaways from Starbucks Queen St and from Sunnytown Restaurant, Lorne St, on Monday November 9 (11.31-11.40am).
Anyone who dined at the Red Pig is being asked to isolate and get a test. People who were in the same place at the other locations should be on high alert for symptoms.
This article was first published on the NZ Herald and is republished here with permission.