Covid 19 coronavirus: Case identified in Auckland community; no link to border or MIQ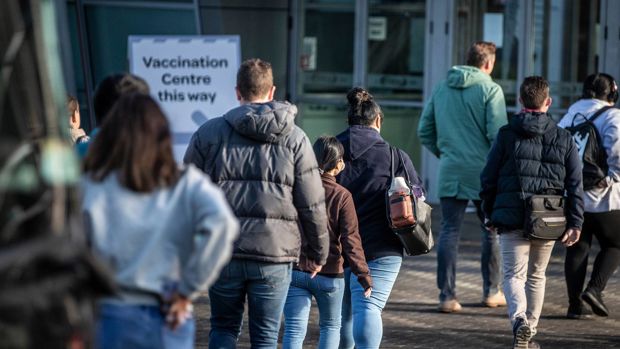 A positive case of Covid-19 has been identified in the community early this afternoon and is now under investigation.
The link between the case and the border or managed isolation is yet to be established.
The Ministry of Health is advising anyone in Auckland taking public transport this afternoon or who cannot socially distance in public spaces to wear a mask.
Ministers will meet this afternoon once additional information is gathered to confirm a response.
An update will be provided after that, said the health ministry.
Contact tracing interviews are being conducted by the Auckland Regional Public Health unit.
"The Auckland Regional Public Health unit is undertaking interviews with the case for contact tracing purposes. While we collect more specific information all New Zealanders are reminded of the basic public health measures of mask wearing and hand washing. In particular anyone in Auckland catching public transport this afternoon or who cannot socially distance in public spaces should wear a mask as a precaution," the ministry said in a statement.
"A hard and early response is the best tool to stamp out any potential spread and everyone in New Zealand is asked to stay calm, be kind and play their part while we gather more information on the potential case."
There are no new cases in managed isolation.
The news comes after revelations this morning that Covid was spread between returnees at Auckland's Jet Park quarantine facility when room doors were opened simultaneously for seconds during food deliveries and a health check.
An investigation has revealed the highly contagious Delta variant was spread in seconds across a corridor and changes were now underway at the 31 MIQ facilities across the country to prevent synchronous door opening.
It comes as more than 2.5 million doses of the Pfizer vaccine have been administered.
Meanwhile, across the ditch, New South Wales yesterday announced 478 new community cases had been detected while eight people had died.
Premier Gladys Berejiklian subsequently all but admitted defeat against the Delta strain, claiming it was no longer possible to eliminate Covid-19 and that the goal would be to keep case numbers down, media outlet News.com.au reported.
"It's not possible to eliminate it completely. We have to learn to live with it," she said. "But the best chance we have to live with it freely and safely is to get the case numbers down as low as possible," Berejiklian said.
Victoria, the Australian Capital Territory, Queensland and the Northern Territory have all also recorded community cases within the last 11 days.
Meanwhile, Fiji has reported more than 800 new cases in the 48 hours up to Monday 8am.
There had also been 26 deaths, taking the toll to 394.
Please visit covid19.govt.nz/ for more information.
This article was first published by the NZ Herald and is republished here with permission.