Covid-19 vaccine now open to everyone over 12, 75 cases in the community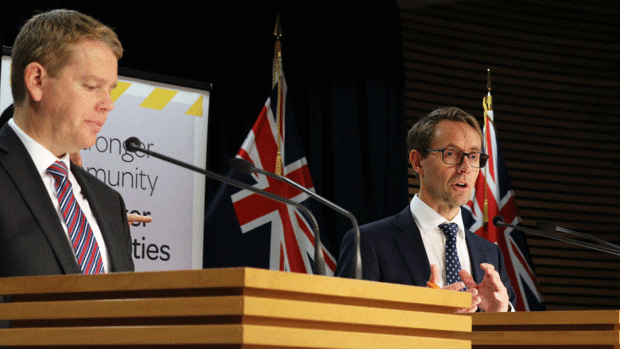 There are 75 cases of Covid in the community today - and one is in Wellington.
The case in the capital, which moved to alert level 3 this morning, is a household contact of another case.
This person had returned three previous negative tests and remains asymptomatic.
This latest bounce in numbers is not unexpected, director-general of health Ashley Bloomfield said.
It is clear that on average the daily case numbers are lower than the peak, he said.
There is one case in MIQ.
Out of an abundance of caution, Bloomfield around 40 supermarkets have been added as new locations of interest.
32 people in hospital with Covid
There are 32 people in hospital in Auckland. Eight people are in ICU and three are on ventilators.
More than 22,000 tests were processed nationwide yesterday.
54% get the jab
Three and a half million doses of the Pfizer vaccine had been administered in New Zealand since midnight, Hipkins said.
Fifty-four per cent of the eligible population in the country have received at least one dose, he said.
More than 85 per cent of people aged 65+ have now been vaccinated with one dose, Hipkins said.
Around 37 per cent of the Māori population have had at least one dose, and 47 per cent of the Pasifika community.
The rates of vaccination within Maori and Pacific have doubled," Bloomfield said, and additional funding is going out to providers.
Bookings have surged in recent times, Hipkins said. More than a quarter of a million people booked for a vaccine on August 25.
Sixty-eight per cent of New Zealanders 12 and older are either booked or have had a vaccination.
New Zealand is on track to achieve "a good high rate of vaccinations", Hipkins said.
People should reserve their spot at Book My Vaccine, and call 0800 28 29 26 if they have any questions on vaccinations, he said.
An update on vaccine supply will be provided at the end of the week, Hipkins said.
Auckland will be the priority, he said. Walk-in clinics around the rest of the country might need to be scaled back.
MIQ pause - and new booking system on the way
The pause on releasing any further MIQ vouchers has been extended for a few weeks, Hipkins said.
"I acknowledge that is not easy for New Zealanders abroad looking to come home."
"We're asking Kiwis abroad to play their part in this response by being patient."
The pause on releasing further vouchers does not pause emergency vouchers. People can still make applications to come home for emergencies.
The booking system will operate differently when it starts back up again. A virtual lobby booking system will be introduced. People will be selected "randomly", removing the issue of being the quickest person to "hit the button", Hipkins said.
He said it will create a more level playing field for people once they are on the site.
There won't be any vouchers released for the next week or two.
The overriding legal principle is that restrictions put in place are proportionate to the level of risk, Hipkins said, about restricting New Zealanders from coming home.
"There is a lot of demand. Those hoping to have summer holiday in New Zealand, my request to them is to leave the vouchers for those who need it. Now is not a good time to return with the intention of going back."
168,000 New Zealanders have moved through MIQ with "very few incidents", Hipkins said.
Travel across Auckland border
The number of companies issued with travel documentation to move across the boundary in Auckland between level 3 and level 4 is more than 3,000, covering 23,000 employees, Covid Response Minister Chris Hipkins said.
Plumbers and other tradespeople can work under alert level 4 as long as they are wearing PPE to help in emergencies, Hipkins said.
People should be checked at the door of the airport terminal before getting a flight out of Auckland, Hipkins said.
"This is disappointing, these people should not be travelling," he said of reports people have left Auckland in level 4.
Infringements should apply. Students should not be returning to their halls of residence if the place they are currently in, is in alert level 4.
Public health guidelines
Stay home
If you have to go out make sure you wear a mask
Stay in your bubble and reduce contact with others
Act as if you have Covid-19 and as if others around you do to 
For more information visit covid19.govt.nz.
This article was first published on the NZ Herald and is republished here with permission.