Dad goes viral after sharing powerful photos of him 'breastfeeding' his newborn daughter
Publish Date

Monday, 9 July 2018, 11:46AM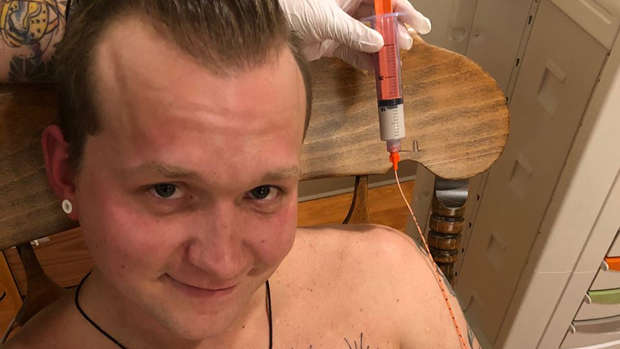 We think we've found our winner for the dad of the year award!
In a Facebook post that has since gone viral, new father Maxamillian Neubauer shared powerful images of his daughter breastfeeding for the first time — only it wasn't from his wife April's chest.
Yes, you read that right.
The Wisconsin dad stepped up to the plate and breastfed his newborn daughter when his wife was unable to, due to complications from giving birth.
READ MORE:
• Mum's Facebook photo of 'what depression looks like' goes viral
• The 30 baby names set to go extinct
Speaking to TV station WBAY, April revealed she wanted to breastfeed right after giving birth.
But due to having multiple seizures while in labour, the new mum ended up having an emergency C-section - which meant she was unable to breastfeed as she needed to recover in the ICU following the arrival of their baby.
Luckily a quick-thinking nurse had an idea.
Using a fake nipple shield, feeding tube, syringe and formula - which is usually used to help adoptive mothers and mothers who struggle to breastfeed - the nurse convinced Maxamillian to try it out.
"Due to complications during Aprils emergency c-section. This super rad nurse made a epically killer offer, and I was fortunate enough to slap on a suction cup fake nipple," Maxamillian wrote on Facebook.
"Being the first to breast feed da baby!!!! 'I did it for the moms' Eat your heart out!!"
Since sharing the photos, the post has received more than 30,000 shares and 44,000 likes.
How cool is that?!