Delicious looking 'Ruby Chocolate' is naturally pink and could be hitting shelves soon
Publish Date

Friday, 4 May 2018, 8:00AM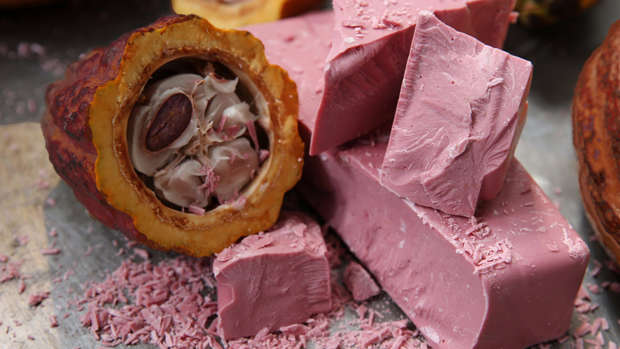 Dark, milk and white chocolate have a new companion. The fourth natural chocolate flavour has been announced, the first one in 80 years.
Ruby chocolate is expected to hit the shelves around the world this year.
The slightly pink chocolate promises to be a favourite with Instagram foodies and has been developed by Barry Callebaut, the world's largest cocoa processor.
Ruby chocolate is the product of 13 years of research and development, after the company first discovered a new type of cocoa bean during experiments and refinements in their labs.
The new chocolate flavour, described by the company as "a tension between berry-fruitiness and luscious smoothness", has no added colouring or flavouring.
The pinky hue comes from a powder extracted during the processing.
It is reportedly not as sweet as milk chocolate.
READ MORE:
The "ruby" cocoa beans are grown in the Ivory Coast, Ecuador and Brazil.
The release of the first new chocolate colour and flavour in 80 years is well timed with the trend of coloured food that platforms like Instagram have helped propagate.
"It perfectly matches the food trends now, so I think the market will respond very positively to it," the company said, quoted by the Guardian.
The pink chocolate is expected to reach consumers worldwide in the next six to 18 months.
This article was first published on NZ Herald and is republished here with permission.