Dogs' adorable apology letter goes viral after they stole the postie's lunch
Publish Date

Wednesday, 11 July 2018, 11:57AM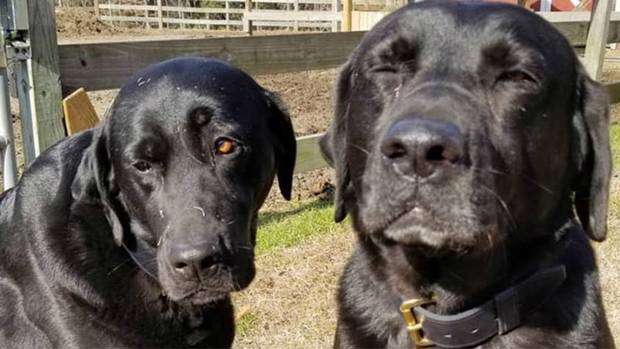 While it's not uncommon for Labradors to get themselves into trouble, these two black labs have gone viral after the mischief they got up to.
And it all started with a 'surprising' note left by a postie.
READ MORE:
• Watch this Polish historian get hilariously interrupted by his cat during a live interview
• This adorable video of penguins holding hands as they take a romantic walk along the beach will melt your heart!
Sharing the message on Facebook, owner Carol Jordan revealed the two dogs had broken into the postie's truck so they could eat her lunch.
Alongside a photo of two suspiciously guilty-looking dogs, the note read: "Hey! I drove up to deliver a package and both of the dogs crawled in my truck. They got into my lunch and ate an egg and some carrots and pumpkin seeds."
Worried about the wellbeing of the dogs after their feast, the postie continued: "I don't know if that will upset their tummies. Just FYI!"
Feeling bad for her dogs' lunchtime antics, Jordan decided to send the postal worker a subway gift card personally signed by the dogs along with an apology letter.
"Sorry we ate your lunch. Thank you for sharing! Bull & Bear Jordan," the apology note said.
"PS. Our humans said thank you for leaving a note. We didn't like the note, we got in trouble!"
Too cute!