Ed Sheeran 'mistaken' for Prince Harry on royal wedding plate
Publish Date

Thursday, 12 April 2018, 10:30AM
Eagle-eyed royal fans have spotted a hilarious commemorative plate on sale that features a picture of Ed Sheeran instead of Prince Harry.
The £25 ($48) plate, currently on sale on online marketplace Etsy, features a picture of the red-haired pop star alongside Meghan Markle, to mark the royal wedding at Windsor Castle in May, reported the Daily Mail.
A snap of the souvenir was shared on Twitter by former royal chef Darren McGrady, who commented: "Loving all the #PrinceHarry and #MeghanMarkle memorabilia. Just think some companies should do a little more research first."
However, the seller has since explained that the Ed Sheeran item was intended to be a joke - with the item marketed as an 'alternative' commemorative plate.
Royal fans were quick to comment on the hilarious plate - with many not realising the picture of the pop star instead of Harry was an intentional joke.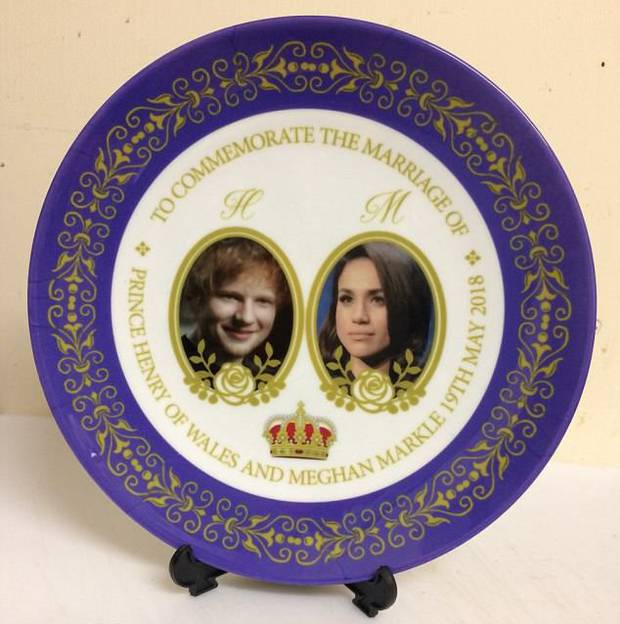 One wrote "When you only had one job to do and did it wrong," while another added: "The company is either not English, or a sick joke."
Others commented "this is hilarious", while another posted "So funny!!!"
READ MORE:
The alternative commemorative royal wedding plate is being sold on Etsy by Lucy Bryant, who runs the store ModernChintz.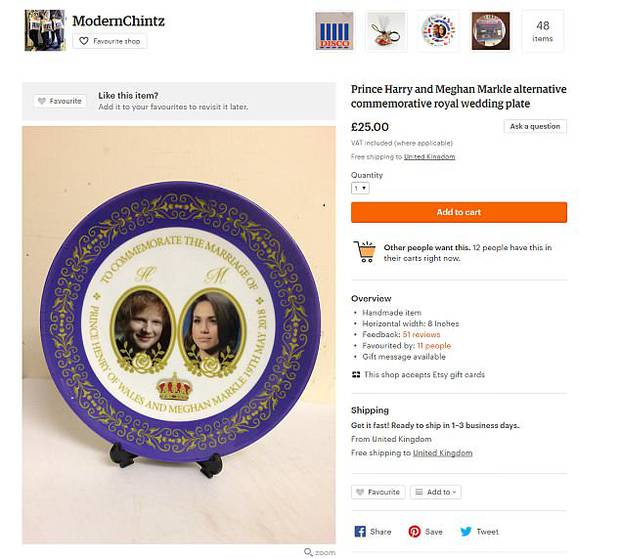 The description reads: "Celebrate THE wedding of the year with this beautiful china plate featuring the portraits of Prince Harry and Meghan Markle.
"Whether you choose to eat your toast and Marmite (Harry's favourite snack*) from, or hang it on your wall, this plate won't fail to raise a smile and evoke pride in our country's most cherished couple."
Lucy later explained how she had been inspired by a commemorative mug that featured Harry instead of William when the Duke and Duchess of Cambridge got married in 2011.
The mug, produced by souvenir company Guandong Enterprises Ltd, was available online for £9.99 ($19.22) and made headlines at the time.
Explaining the idea between her Ed Sheeran and Meghan mug, Lucy told FEMAIL: "It's entirely deliberate. I bought a Kate/Wills mug when they got married and when it arrived, it was a pic of Harry instead of William."
"It inspired me to do something similar... and when I was thinking of a random redhead, I thought Ed would be perfect. It's been pretty popular!"
This article was first published on Daily Mail and is republished here with permission.