Enjoyed The Hits 90s Bus? Here's the full list of songs
Publish Date

Friday, 27 October 2017, 6:30PM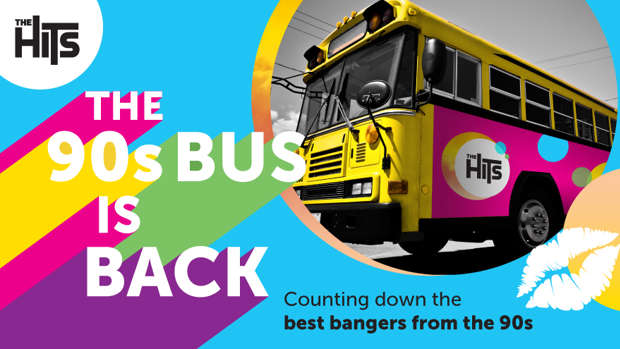 This week we have busted out all of the best tracks from the 90s pleasure!
If you enjoyed your ride on The Hits 90s Bus then we've got something we think you might like.
Here is the full list of all 333 songs we played - which one was your favourite?
333 Mysterious Girl - Peter Andre
332 Linger - Cranberries
331 Boom Boom Boom - Vengaboys
330 Black Crowes - Hard to Handle
329 I Can Love You Like That - All 4 One
328 Bryan Adams - Can't Stop this Thing We Started
327 Where Have All the Cowboys Gone - Paula Cole
326 Just Another Day - Jon Secada
325 Bitch - Meredith Brooks
324 Mr. Vain - Culture Beat
323 Runaway Train - Soul Asylum
322 Christina Aguilera - What a Girl Wants
321 Smash Mouth - Can't Get Enough of You Baby
320 Total Eclipse of the Heart - Nicki French
319 Baby, I Love Your Way - Big Mountain
318 Follow You Down - Gin Blossoms
317 Music Sounds Better With You - Stardust
316 Bed of Roses - Bon Jovi
315 Lovefool - Cardigans
314 Freedom 90 - George Michael
313 Time - Hootie & the Blowfish
312 Elton John - Circle of Life
311 Britney Spears - (You Drive Me) Crazy
310 Guns N Roses - Don't Cry
309 Better off alone - Alice DJ
308 Steal My Sunshine - LEN
307 All I Wanna Do is Make Love to You - Heart
306 Simply Red - Fairground
305 Closer to Free - Bodeans
304 I'm too Sexy - Right Said Fred
303 Breathe Again - Toni Braxton
302 Blink 182 - What's My Age Again
301 All That She Wants - Ace of Base
300 Everybody's Free (To Wear Sunscreen) - Baz Luhrmann
299 C U When You Get There - Coolio
298 Spin Doctors - Luttle Miss can't Be Wrong
297 Shoop - Salt N Pepa
296 Movin' On Up - M People
295 Praise You - Fatboy Slim
294 Humpin' Around - Bobby Brown
293 Sunny Came Home - Shawn Colvin
292 Fly Away - Lenny Kravitz
291 Damn, I Wish I Was Your Lover - Sophie B Hawkins
290 Strong - Robbie Williams
289 Head Over Feet - Alanis Morissette
288 I've Been Thinking About You - Londonbeat
287 Always Be My Baby - Mariah Carey
286 Brimful of Asha - Cornershop
285 I Can't Dance - Genesis
284 Get Ready for This - 2 Unlimited
283 When the Lights Go Out - Five
282 Distant Sun - Crowded House
281 Barbie Girl - Aqua
280 Tears in Heaven - Eric Clapton
279 Every Morning - Sugar Ray
278 That's the Way Love Goes - Janet Jackson
277 All I Have to Give - Backstreet Boys
276 Where Do You Go - No Mercy
275 About a Girl - Nirvana
274 It's All coming Back to Me Now - Celine Dion
273 Tom Petty - Learning to Fly
272 Spice Girls - Spice Up Your Life
271 Bruce Springsteen - Streets of Philadelphia
270 Informer - Snow
269 Crazy - Seal
268 What I Got - Sublime
267 If You Had My Love - Jennifer Lopez
266 Mr Jones - Counting Crows
265 Why Does it Always Rain on Me - Travis
264 Everyday is a Winding Road - Sheryl Crow
263 Dominion Road - Muttonbirds
262 Changes - 2Pac
261 Mrs Robinson - Lemonheads
260 The Most Beautiful Girl - Prince
259 Cosmic Girl - Jamiroquai
258 Another Night - Real McCoy
257 Lullaby - Shaun Mullins
256 Don't Let the Sun Go Down on Me - George Michael/Elton John
255 Macarena - Los Del Rio
254 Ugly Kid Joe - Cat's in the Cradle
253 No Doubt - Spiderwebs
252 Can't Help falling in Love - UB40
251 It Ain't Over Til It's Over - Lenny Kravitz
250 Two Times - Ann Lee
249 Last Kiss - Pearl Jam
248 Break my Stride - Unique II
247 Lemon Tree - Fool's Garden
246 Lump - Presidents of the USA
245 Boombastic - Shaggy
244 You're Still the One - Shania Twain
243 Robbie Williams - Millenium
242 Stay (I Missed You) - Lisa Loeb
241 Sitting Inside My Head - Supergroove
240 Too Much - Spice Girls
239 Rhythm Divine - Enrique Iglesias
238 Ordinary world - Duran Duran
237 See What Love Can do - Annie Crummer
236 Real World - Matchbox 20
235 You Are Not Alone - Michael Jackson
234 Walking on the Sun - Smash Mouth
233 This Kiss - Faith Hill
232 Summer Girls - LFO
231 Ready to Go - Republica
230 On Bended Knee - Boyz II Men
229 I Want You - Savage Garden
228 Hold My Hand - Hootie & the Blowfish
227 The Power - Snap
226 Sway - Bic Runga
225 Slide - Goo Goo Dolls
224 No matter What - Boyzone
223 Jump - Kris Kross
222 Quit Playing Games With My Heart - Backstreet Boys
221 Wild Wild West - Will Smith
220 C'est La Vie - Bwitched
219 Baby Got Back - Sir Mix-A-Lot
218 Shy Guy - Diana King
217 Breakfast at Tiffany's - Deep Blue Something
216 All 4 Love - Colour Me Bad
215 Loser - Beck
214 Ode to My Family - Cranberries
213 Ray of Light - Madonna
212 Easy - Faith no More
211 I Want You to Want Me - Letters to Cleo
210 Step By Step - New Kids on the Block
209 One Headlight - Wallflowers
208 MMMBOP - Hanson
207 Runaway - Real McCoy
206 What it's Like - Everlast
205 100% Pure Love - Crystal Waters
204 When You Say Nothing at All - Ronan Keating
203 Creep - Radiohead
202 Who Will save Your Soul - Jewel
201 When I Come Around - Green Day
200 I Want You Back - NSYNC
199 Nobody Knows - Tony Rich Project
198 You Learn - Alanis Morisette
197 Whoomp There It Is - Tag Team
196 Song 2 - Blur
195 Buses and Trains - Bachelor Girl
194 Things Can Only Get Better - D:Ream
193 No Rain - Blind Melon
192 Torn - Natalie Imbruglia
191 My Lovin' - En Vogue
190 Only Wanna Be With You - Hootie & the Blowfish
189 Doo Wop (That Thang) - Lauryn Hill
188 Lightning Crashes - Live
187 Right Here, Right Now - Jesus jones
186 Gone Til November - Wyclef Jean
185 Justified & Ancient - KLF
184 All Star - Smash Mouth
183 I Knew I Loved You - Savage Garden
182 Pretty Fly for a White Guy - The Offspring
181 Got The Feelin' - Five
180 You Don't Treat Me No Good - Sonia Dada
179 Emotions - Mariah Carey
178 The Freshmen - Verve Pipe
177 I'm Free - Soup Dragons
176 I Believe I Can Fly - R. Kelly
175 I'll Be There For You - Rembrandts
174 Finally - Ce Ce Penniston
173 High - Lighthouse Family
172 Things That Make You Go MM - C&C Music Factory
171 Save Tonight - Eagle Eye Cherry
170 Let's Talk About Sex - Salt N Pepa
169 Here Comes the Hotstepper - Ini Kamoze
168 MMM MMM MMM - Crash test Dummies
167 Sweat - Inner Circle
166 Bring it All Back - S Club 7
165 Man on the Moon - REM
164 I Don't Want to Wait - Paula Cole
163 Who Loves Who The Most - Exponents
162 She's the One - Robbie Williams
161 One Of Us - Joan Osborne
160 No Diggity - Blackstreet
159 Can't Get Enough - Supergroove
158 Angel - Sarah McLachlan
157 Tubthumping - Chumbawamba
156 Give It Up - Cut N Move
155 Santeria - Sublime
154 Genie in the Bottle - Christina Aguilera
153 Life is a Highway - Tom Cochrane
152 You Gotta Be - Des'Ree
151 One Week - Barenaked Ladies
150 Can You Feel the Love Tonight - Elton John
149 The Bomb - Bucket Heads
148 Mama - Spice Girls
147 Two Princes - Spin Doctors
146 My Love is Your Love - Whitney Houston
145 Somebody to Love - George Michael/Queen
144 Baialmos - Enrique Iglesias
143 Losing My Religion - REM
142 Everybody Get Up - Five
141 From this Moment On - Shania Twain
140 I Wanna Sex You Up - Colour Me Bad
139 Together Again - Janet Jackson
138 Closing Time - Semisonic
137 Free Your Mind - En Vogue
136 Better Man - Pearl Jam
135 Dreamlover - Mariah Carey
134 Crush - Jennifer Paige
133 Sweetest Thing - U2
132 I'll Stand By You - Pretenders
131 Miami - Will smith
130 Missing - Everything but the Girl
129 The Wold I Know - Collective Soul
128 Rhythm of the Night - Corona
127 I Love You Always Forever - Donna Lewis
126 U Can't Touch This - MC Hammer
125 You Were Meant for Me - Jewel
124 She's so High - Tal Bachman
123 One sweet Day - Mariah Carey/Boyz II Men
122 You Get What You Give - New Radicals
121 Unbreak My Heart - Toni Braxton
120 I Can See Clearly Now - Jimmy Cliff
119 Unbelievable - EMF
118 Mr. Wendal - Arrested Development
117 Have You Ever - Brandy
116 If You Could Only See - Tonic
115 More than Words - Extreme
114 Cream - Prince
113 Beautiful Stranger - Madonna
112 1979 - Smashing Pumpkins
111 Fading Like a Flower - Roxette
110 Hey Leonardo - Blessed Union of Souls
109 Strong Enough - Sheryl Crow
108 Under the Bridge - Red Hot Chili Peppers
107 Be My Lover - La Bouche
106 It's Only Natural - Crowded House
105 Rhythm is a Dancer - Snap
104 Never Ever - All Saints
103 Getting Jiggy With It - Will Smith
102 Everything I Do - Bryan adams
101 Sex and Candy - Marcy Playground
100 Set Adrift on memory Bliss - PM Dawn
99 Love is All around - Wet Wet Wet
98 I Say a Little Prayer - Diana King
97 All For You - Sister Hazel
96 Young Hearts Run Free - Kim Mazelle
95 Scar Tissue - Red Hot Chili Peppers
94 Waiting for Tonight - Jennifer Lopez
93 Killing Me Softly - Fugees
92 Runaway - Janet Jackson
91 To the Moon and Back - savage garden
90 If Ya Getting' Down - Five
89 Without You - Mariah carey
88 All the Small Things - Blink 182
87 The Boy is Mine - Brandy & Monica
86 Gonna Make You Sweat - C&C Music Factory
85 2 Become 1 - Spice Girls
84 What is Love - Haddaway
83 Your Woman - White Town
82 People Everyday - Arrested Development
81 How Bizzare - OMC
80 All My Life - KCI & JOJO
79 Kiss Me - Sixpence None The Richer
78 California Love - 2Pac
77 Groove is in the Heart - De-lite
76 Everybody Hurts - REM
75 Men in Black - Will Smith
74 As I Lay Me Down - Sophie B Hawkins
73 Let Me Entertain You - Robbie Williams
72 The Sign - Ace of Base
71 Unpretty - TLC
70 I'll Make Love To You - Boyz II Men
69 It's Like That - Run DMC/Jason Nevins
68 That Don't Impress Me Much - Shania Twain
67 Who Do You Think You Are - Spice Girls
66 Always - Bon Jovi
65 Hero - Mariah Carey
64 Ice Ice Baby - Vanilla Ice
63 I want it that Way - Backstreet Boys
62 All I Wanna Do - Sheryl Crow
61 Semi-Charmed Life - Third Eye Blind
60 I Swear - All 4 One
59 You Oughta Know - Alanis Morisette
58 Push - Matchbox 20
57 Keep on Movin' - Five
56 Nothing Compares to You - Sinead O'Connor
55 Jump Around - House of Pain
54 Don't Speak - No Doubt
53 To Be With You - Mr Big
52 Stop - Spice Girls
51 One - U2
50 Livin' La Vida Loca - Ricky Martin
49 What's Up - Four non Blondes
48 End of the Road - Boyz II Men
47 Man! I feel Like a Woman - Shania Twain
46 Let Her Cry - Hootie & the Blowfish
45 Why Does Love Do This To Me - Exponents
44 If It Makes You Happy - Sheryl Crow
43 No Scrubs - TLC
42 Smooth - Santana/Rob Thomas
41 Come As You are - Nirvana
40 Baby One More Time - Britney Spears
39 Hand in My Pocket - Alanis Morisette
38 Return of the Mack - Mark Morrison
37 Believe - Cher
36 3am - Matchbox 20
35 As Long As You Love Me - Backstreet Boys
34 Dreams - Cranberries
33 Blaze of Glory - Bon Jovi
32 Because You Loved Me - Celine Dion
31 Mambo #5 - Lou Bega
30 Angels - Robbie Williams
29 Good Vibrations - Marky Mark & The Funky Bunch
28 Larger than Life - Backstreet Boys
27 Truly, Madly, Deeply - Savage Garden
26 Boom Shake the Room - DJ Jazzy Jeff
25 Would I Lie to You - Charles & Eddie
24 Ghetto Superstar - Ol' Dirty Bastard
23 Daughter - Pearl Jam
22 Waterfalls - TLC
21 Ironic - Alanis Morisette
20 Kiss from a Rose - Seal
19 Wannabe - Spice Girls
18 Time of Your Life - Green Day
17 Just a Girl - No Doubt
16 I Will Always Love You - Whitney Houston
15 Mo Money Mo Problems - Notorious B.I.G.
14 Back for Good - Take that
13 Iris - Goo Goo Dolls
12 I'd Do Anything for Love - Meat Loaf
11 My Heart Will Go On - Celine Dion
10 November Rain - Guns N Roses
9 Bittersweet Symphony - The Verve
8 Gangsta's Paradise - Coolio
7 Zombie - Cranberries
6 Wonderwall - Oasis
5 Smells Like Teen Spirit - Nirvana
4 I'll Be Missing You - Puff Daddy
3 Black or White - Michael Jackson
2 I Don't Want to Miss a Thing - Aerosmith
1 Everybody - Backstreet Boys