Ever wondered what's really in a Chicken McNugget? McDonald's reveals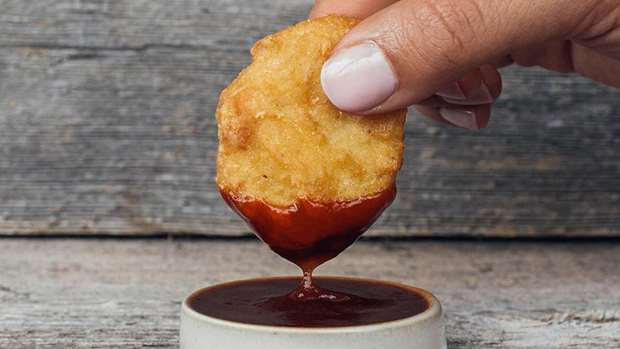 McDonald's has lifted the veil about what really goes into one of the favourite items on the menu: chicken nuggets.
And no, there was no sign of chicken beaks, feet, claws, offal, or cartilage going into the mix.
The Herald was invited behind the scenes of the Ingham's plant in South Auckland to see how Chicken McNuggets are made - a first in New Zealand.
They're made with 100 per cent chicken breast meat, with some skin, and flavouring.
Plant manager Issac Flynn says the creation process starts with the breast being delivered and checked over to make sure there are no bruises or blood spots.
It's then minced together, then combined in a brine mix, before being moulded into one of four shapes - the bone, the bell, the boot and the ball.
Moulded nuggets then go through the battering process, are flash-fried, snap frozen, weighed, bagged, and packaged before being delivered to restaurants.
Typically they process around 20 tonnes of McNuggets, that's around 1.3 million a day.
Wow, that's a log of nuggies!
Some nuggets about McNuggets:
Chicken McNuggets were first offered on New Zealand menus in 1985;
Chicken McNuggets are available in four shapes – the bone, the bell, the boot and the ball;
Rene Arend, McDonald's first executive chef, created the Chicken McNugget recipe in 1979;
In America, Chicken McNugget dipping sauce is available in seven varieties, including the Sweet 'n Sour and BBQ options available in New Zealand;
Szechuan Sauce is McDonald's most sought-after limited edition dipping sauce. Released in New Zealand earlier in 2020, the sauce ran out in some restaurants within hours.
This article was first published on the NZ Herald and is republished here with permission.