First look at Ryan Gosling as Ken in highly anticipated live-action 'Barbie' movie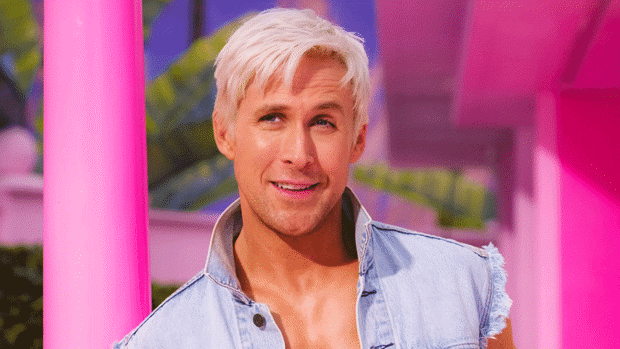 All we can say is ... wow!
Warner Bros has unveiled the first-look photo of Ryan Gosling as a Ken doll in Greta Gerwig's upcoming Barbie movie.
Looking very much like the classic Ken doll, the 41-year-old can be seen sporting an orange-tinged tan, platinum blonde hair, denim vest and jeans overtop "Ken" underwear - made to look like Calvin Kleins - while leaning against a pink pillar of what could be Barbie's 'Dream House'.
The Notebook star is set to appear alongside Margot Robbie - who is starting as the iconic Matte Barbie doll in the live-action flick - and we cannot wait to see it!
However, it seems that Ryan won't be the only actor to be playing a Ken doll.
While not much is known yet about the film, rumours have swirled that there will be more than one "Barbie" and more than one "Ken" in the film and other stars will portray different versions of the Matell dolls in the live-action film.
Kyle Buchanan, a New York Times reporter tweeted from the Cannes film festival back in May that Ryan Gosling will play Ken but he won't be the only one. Simu Liu and Ncuti Gatwa will also play versions of the doll.


Photo / Getty
This special preview photo of Ryan comes after it was also revealed that British pop star Dua Lipa will also be taking on a big part in the film, alongside other stars such as Will Ferrell and Saoirse Ronan.
Fans have been kept in the dark when it comes to what exactly they can expect from the project, with plot details being kept tightly under wraps. However, the Daily Mail has reported that insiders are suggesting there is a meta aspect to the story adding that Ferrell will play a toy company CEO.
While Vulture reported the plot will be "a fish out of water" story about a doll who is ousted from toy society for not being perfect enough.
Robbie has also commented on what fans can expect from the film with the Daily Mail quoting her as saying: "Something like Barbie where the IP, the name itself, people immediately have an idea of, 'Oh Margot is playing Barbie, I know what that is', but our goal is to be like, 'Whatever you're thinking, we're going to give you something totally different – the thing you didn't know you wanted."
Barbie is set to be released in New Zealand on July 20, 2023.
The Hits, additional reporting by NZ Herald.