Girl could be scarred for life after black henna tattoo goes horribly wrong
Publish Date

Wednesday, 28 June 2017, 11:42AM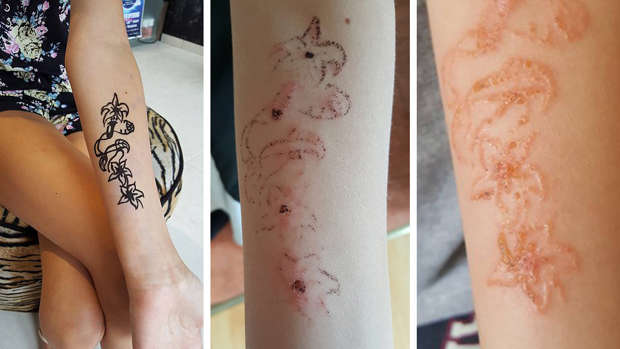 A teenager schoolgirl may be scarred for life after a black henna tattoo she received as a "holiday treat" turned to a highly aggressive rash.
Schoolgirl Teigan Koorts, 13, was thrilled when her mother, Kirsty, 41, agreed to let her get a temporary henna tattoo on a family holiday to Faliraki, Greece, last month.
After finding a shop on the island that offered black henna, Teigan settled on a floral design in the "weakest" strength of black henna, which Mrs Koorts claims they were told would last one month, according to the Daily Mail.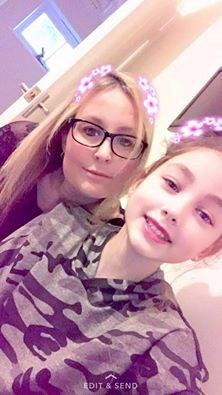 Photo / Facebook
Unaware of the difference between henna, a natural dye from the henna plant, and black henna, a chemical substance, her mother didn't think twice about letting Teigan get the temporary tattoo.
But two days after getting back home to Evesham, Worcestershire, Teigan's henna started to itch and burn and the pretty pattern soon turned into an angry, red and infected wound covering the teen's entire left forearm.
After a month of watching her daughter endure a "living nightmare" and learning that the chemical burns could affect Teigan for life, Kirsty is determined to warn others about black henna.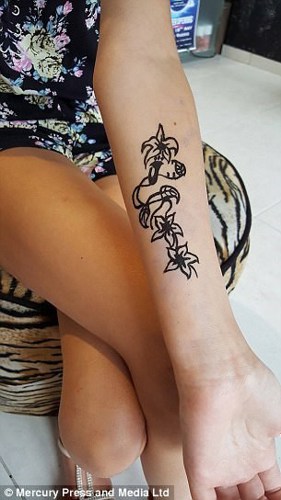 Kirsty, who works at a debt collectors, said: "Teigan has always wanted henna and she was really excited when I said she could get it.
"I remember taking a photo of her having it done and thinking about how much she was going to love it.
"It was just meant to be a holiday treat but it turned into an absolute nightmare.
"She got it the day before the holiday finished and it looked lovely but two days after we got back it started to go funny.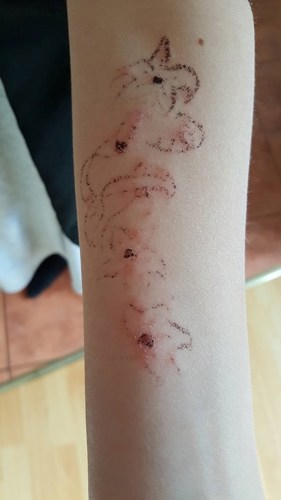 Photo / Facebook
"It went all lumpy, it looked like lots or mosquito bites but when she told me it was burning, I knew there was something else going on and started to research black henna.
"When I saw that black henna is completely different to normal henna I felt so guilty. I had no idea but normally I would never let her do something like that without researching.
"I just thought henna was henna and all natural.
"I took her to the doctors and she was prescribed antibiotics but still each day you could see the burns getting worse.
"Her skin was all blistered and seeping from the infection. It has gone through so many stages.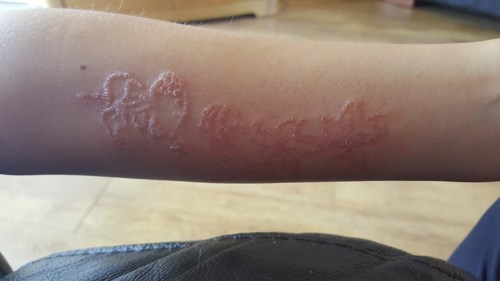 Photo / Facebook
"It was so awful as a parent watching my child go through that. She was in absolute agony and imagine your entire arm itching and burning all day every day.
"It was hell for her and it went on for four weeks.
"Thank God we chose the weakest one which is meant to fade after a month. It's so scary to think what could have happened if we'd gone for the one that lasts three or six months.
"The pain was making her really low and it looked horrific. She didn't want to go out or do anything which is not like Teigan at all, she's normally singing and dancing - she's so outgoing."
After coming back from their summer break, Kirsty and Teigan's dad Scarl Koorts, 36, took their daughter to her doctor where she was prescribed antibiotics to treat her infected burns.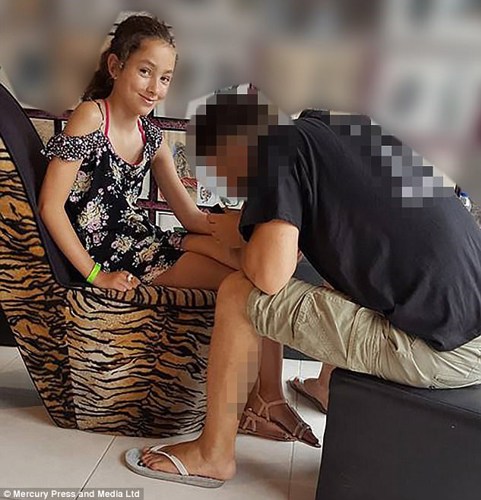 But Teigan's burns were so severe that after three weeks they still had not improved so the teen was taken to A&E by her mother and father where she was put on a strong antihistamine and a steroid cream.
While henna is a natural dye prepared from the Lawsonia inermis plant black henna is a chemical substance called para-phenylenediamine (PPD) which is found in hair dye.
The PPD in black henna can cause an allergic reaction which leads to chemical burns and a possible life-long sensitivity to the chemical which is used in most hair dyes.
Teigan's mum Kirsty claims doctors have told her that the teen's scars should start to clear up after six months but there is "no way to be sure".
Exposure to PPD in black henna could also mean that Teigan will never be able to dye her hair, a phase many teenagers go through that Kirsty feels her daughter has been robbed of.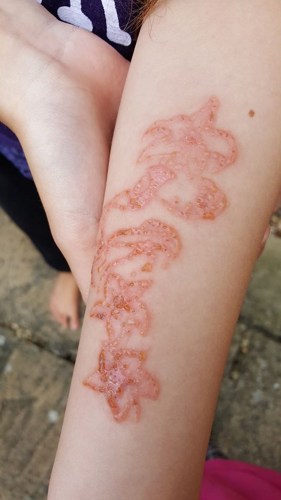 Photo / Facebook
Determined mother Kirsty now wants to make more parents aware of the difference between black henna and natural henna so their children do not suffer the agony Teigan has endured.
Kirsty said: "The doctors have told us it will be visible for six months but there is no way of knowing, everyone's skin is different. She could be scarred for life.
"But at one point she was so upset she actually told me she didn't care if it scarred her forever as long as the itching and the burning stopped.
"She has been in so much pain, it's heartbreaking seeing her go through all this.
"And even if it doesn't scar, it could still affect her for the rest of her life. She might never be able to dye her hair. Every girl wants to change their hair at some point.
"I just want all families to know that black henna is dangerous and can cause such serious and lifelong problems.

Photo / Facebook
"You see so many children on holiday, some as young as four, getting henna and not enough people know the difference.
"With everyone on summer holiday at the moment, I just want to warn everyone to avoid black henna.
"If sharing Teigan's experience can help even one child, that's something."
The British Skin Foundation launched an awareness campaign about the dangers of black henna two years ago after UK dermatologists reported a rise in the number of reactions.
Dr Anjali Mahto, Consultant Dermatologist and British Skin Foundation spokesperson, said: "Black henna is well known to cause skin reactions and should be treated with caution, particularly in children.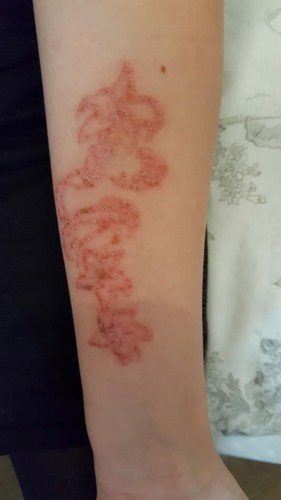 Photo / Facebook
"Year after year we see ever more severe reactions to black henna tattoos.
"What might seem like pretty body art can quickly turn nasty with horrific blistering, permanent scars and even in the most severe cases life-threatening allergic reactions.
"Tourists and parents are advised to think twice whether it is worth the risk for a piece of body art."
This article was first published on Daily Mail and is republished here with permission.