Grandma accidentally buys hilariously inappropriate book for her granddaughter and it's gone viral
Publish Date

Friday, 6 October 2017, 12:00PM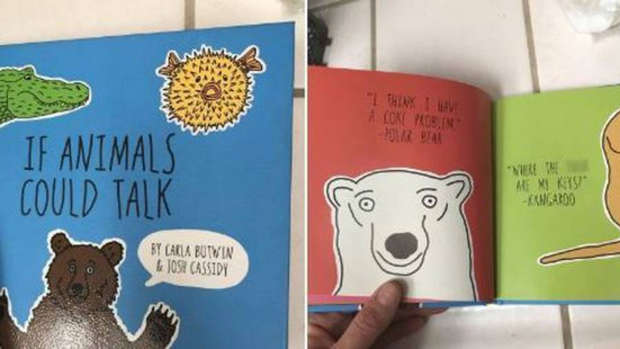 They say you should never judge a book by its cover and this US grandma is proof of exactly that.
The woman thought she was innocently buying just another children's book for her 6-year-old granddaughter's bookshelf but ended up going viral once her daughter Tiffany shared how hilariously inappropriate the book was.
"I'm dying. My mom bought this book for my 6-year-old and I just called to ask if she had actually opened the book. She hadn't," she wrote on Twitter.
The book features a bunch of different animals including a polar bear saying "I think I have a coke problem," and a kangaroo looking in its pouch with the line "Where the f*** are my keys?"
Her post went viral, with nearly 30,000 retweets and about 77,000 likes in just one day.
The book, titled If Animals Could Talk, looks like a children's book but is actually for a more mature audience.
It is based on the popular Tumblr blog "If _____ Could Talk", by Carla Butwin and Josh Cassidy.
While at first glance it looks like an innocent purchase and a suitable gift for any child, one quick look through the pages reveals an inappropriate gift for such a young girl.
Responding to hundreds of people on Twitter, Tiffany shared a few more snapshots from the book.
"I couldn't even talk when I called her. Here's the first page," she wrote. It showed a cute fluffy little chick saying "Aight, let's tear the roof off this mutha f*****!"
The grandchild reportedly got to see the book and, looking through the pages, reportedly told Dad, "I don't even know what this means."
The grandmother was reportedly - and understandably - "mortified".
After the tweet went viral, the book sold out on major chains, including Amazon and Book Depository.
This article was first published on NZ Herald and is republished here with permission.