Here are all of the Cash 'n' Car clues explained! Did you crack them all?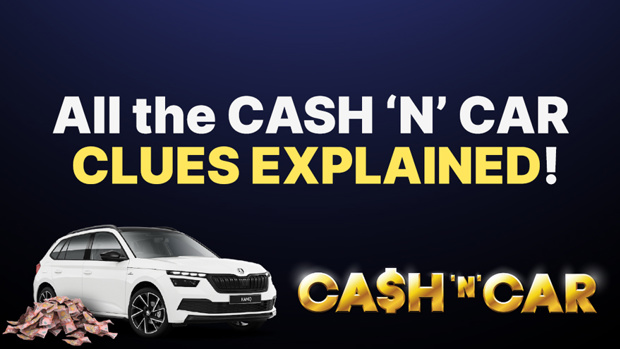 Congratulations to our lucky Cash N Car winner Brogan from Wellington who correctly guessed the amount of cash - $18,079.25 - stashed in the back of the ŠKODA KAMIQ Monte Carlo
She managed to piece together the clues, but did you?
Well here are all the clues explained!
Clue One:
"More than the cash amount last year" 
Answer:
More than $15,981.92 - last year's cash amount
Clue Two:
"The amount of cash in the car is less than what it would cost to fill the SKODA with 144 tanks of 95 octane fuel"

Answer:
This meant the cash amount was less than $20,000. This was based on the average petrol prices at the time:
- Fuel price: $2.79 a litre
- Tank: 50L
- Cost: $139.50
Clue Three:
"The full prize package is worth more than $62,000"

Answer:
This meant, minus the value of the car, the cash amount was between $15,000 - $20,000 based on the information from clues 1 and 2.
Clue Four:
"Palaeontology is his passion and career, but do any of the others really care?"

Answer:
This referenced Ross from Friends, with the remaining friends being the FIVE 'others'.This meant there was a number five in the cash amount.
Clue Five:
"The ŠKODA sure has nice Alloy Wheels"

Answer:
The ŠKODA has 18" alloy wheels meaning the cash amount is in the $18,000s
Clue Six:
"I am an odd number, take away one letter and I become even"

Answer:
Seven – meaning there is a seven in the cash amount number
Clue Seven:

"Closest guess is today" (Wednesday 1st June)
Answer:
The closest guess that day was $18,075.55 with Tanya from Gisborne
From here, we know it's in the $18,000s and has a 5 and a 7
Clue Eight:
"You will find the remaining numbers in the ŠKODA history"

Answer:
ŠKODA joined forces with Laurent and Klement in 1925 which launched the ŠKODA badge. Meaning the numbers 9 and 2 are also in the cash amount, along with the existing 1 and 5.