Here are all the highlights, performances and memorable moments from the 2021 Grammy Awards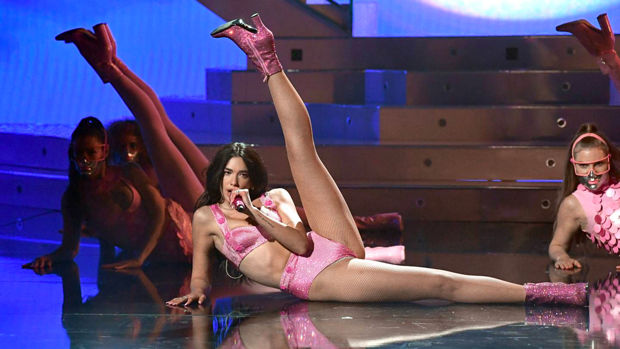 The Grammy Awards have wrapped for another year and, outrageous fashions aside, it really is all about the music and this year was a celebration of song, the joy of which contracts starkly with the difficult year that was 2020. These seven memorable moments will give everyone something to smile about.
Dynamite
K-Pop juggernaut BTS showed why they are one of the biggest bands in the world with a fun-filled performance of their track Dynamite. The seven-strong group were forced to stream their performance live from Seoul due to the pandemic.
RM, Jin, Jimin, J-Hope, Jungkook, V and Suga - donned colourful co-ordinating suits for a performance of Dynamite that took them down the event's red carpet and backstage through the Los Angeles convention centre, ending up on the roof with the city skyline of Seoul in the background.
Earlier in the evening, their fans were outraged when they missed out on a Grammy to Lady Gaga and Ariana Grande.
Embarrassed to win
Billie Eilish not only stunned with her performance at this year's Grammys but scooped the evening's biggest honour, Record of the Year, as she expected it to go to Megan Thee Stallion for Savage.
She said in her acceptance speech: "I'm embarrassed. Megan, girl, I was going to write a speech about how you deserves this, but then I was like, 'There's no way they're going to choose me. You deserve this.
"This is really embarrassing for me. I was like, 'It's hers'. You deserve this.
"You had a year I think was untoppable, you are a queen, I want to cry thinking about how much I love you.
"You're so beautiful, you're so talented, you deserve everything in the world. I think about you constantly, I root for you always. You deserve it, honestly. Genuinely, this goes to her. Can we cheer for Megan Thee Stallion please."
Don't stop Dua
Dua Lipa showed everyone why she has rocketed to fame in the last few years. Her performance was sensual and utterly joyful and it included her tracks Don't Stop Now and Levitating from her Grammy-nominated album Future Nostalgia, with a little help from rapper DaBaby.
Good Golly Bruno
Bruno Mars and Anderson .Paak were the perfect choice to pay tribute to the late, great Little Richard. Performing two of the late rock 'n' roll legend's famous tracks Good Golly Miss Molly and Long Tall Sally, Mars showed once again that everything he touches turns to gold. It was fun, energetic and poignant.
Bruno Mars and Anderson .Paak also performed for the first time as super duo Silk Sonic. The performance of their 70s-inspired track Leave the Door Open was as smooth as glass and one we will be watching over and over again.
Megan is Savage
Megan Thee Stallion absolutely owned the stage during her live performance. The live rendition of her hit Savage was particularly insane, with cash flying and her amazing tap dancers selling the retro-meets-rap aesthetic perfectly. Later she teamed up with Cardi B for a jaw-dropping performance of the controversial song W.A.P.
Taylor on the roof
Taylor Swift sang from the roof of a cabin for her first Grammy Awards performance in five years.
The 31-year-old singer was joined on stage by her Folklore collaborators Jack Antonoff and Aaron Dessner for their first on-stage performance together, during which they sang Cardigan, August and Willow.
The performance began with Taylor lying in the grass before the camera panned out to reveal she was on top of the cabin in a forest setting. Stunning.
Later Taylor Swift won the coveted Album of the Year.
History-making moment
Beyonce became the most decorated female artist in Grammy Awards history.
The 39-year-old star received four honours  - Best R&B Performance for Black Parade, Best Rap Song and Best Rap Performance for Savage with Megan Thee Stallion, and Best Music Video for Brown Skin Girl - during the main event and the pre-telecast ceremony, which took her total to 28 over the years, surpassing the record previously held by Alison Krauss, with 27 wins.
Accepting Best R&B Performance and breaking the record, she said: "I'm so honoured. I'm so excited.
"As an artist, I believe it's my job and all of our jobs to reflect the times, and it's been such a difficult time. So I wanted to uplift and encourage all of the Black queens and kings."
"I can't believe this happened, it's such a magical night."
This article was first published by the NZ Herald and is republished here with permission. Additional reporting by Bang! Showbiz.