Here are seven of the most stunning glamping getaway locations around New Zealand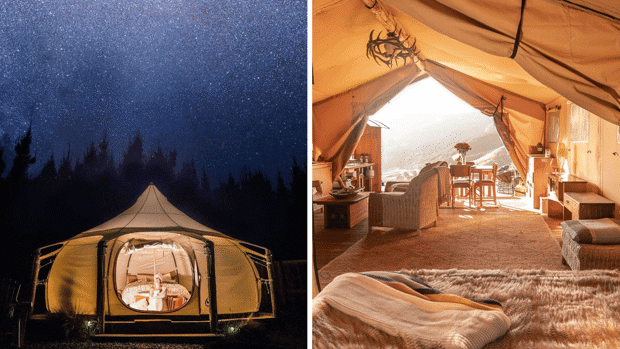 Now that we're able to travel more freely around the country in Alert Level 1, many Kiwis are looking for their next local escape.
Well, luckily there are plenty of stunning locations around Aotearoa, and a lot of them come with a fun twist: Glamping!
If you haven't tried clamping, it's all the joys of camping with all the luxury of staying in a proper bed - that's right, no air mattresses or sleeping bags needed.
Many even have firewood spas and outdoor bathtubs for that extra touch of romance for your weekend away.
Take a look at some of the most stunning glamping locations across New Zealand that Kiwis can book in and enjoy - but you may want to get in quick because with everyone having the same idea holiday dates will be getting snapped up very fast.
Cottle Hill Creek - Kerikeri, Northland
Sleeps 4 (child friendly)
From $220 per night
A sweet floating houseboat surrounded by bushland. What more could you want?
Underhill - Waikato
Sleeps 2
From $355 per night
Adorable Lord of the Rings-inspired Hobbit hole placed perfectly next to a picturesque pond. How cute?!
Te Tuhi Dome - Taupo
Sleeps 2 (dog friendly)
From $290 per night
An amazing geodesic dome featuring a beautiful outdoor bath overlooking Lake Taupo.
Kawakawa Station - Cape Palliser, South Wairarapa
Sleeps 4 (child friendly)
From $250 per night
A beautiful bulb tend surrounded New Zealand forest and farmland. Lovely!
Woodpecker Hut - West Coast, Near Punakaiki
Sleeps 2
From $320 per night
A cosy cliff-top hut overlooking the wild West Cost ocean. It even features a firewood tub.
Green Antler - Banks Peninsula
Sleeps 5 (child friendly)
From $290
A classic canvas tent featuring all the rustic luxuries of being indoors. Quintessential glamping.
Shortlands Shed, Nobbler Creek - Naseby, Central Otago
An industrial style shed turned totally chic modern escape surrounded by stunning Otago skyline.