Here is where you can find all the very best Black Friday Deals!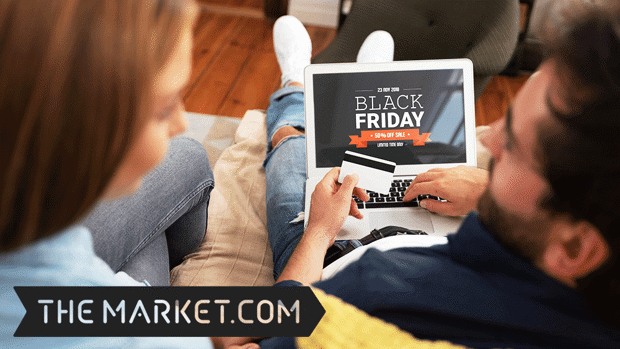 Did someone say Black Friday Deals? 
New Zealand may not celebrate Thanksgiving but we do love to celebrate a bargain! 
So if you haven't done your Christmas shopping yet this Friday is the perfect time to get shopping! The biggest sale of the year is on at TheMarket.com with thousands of deals sitewide! 
You can start shopping TheMarket Black Friday sales right now, with 10-30 per cent off 1000s of deals! For easy shopping, TheMarket have rounded up the best Black Friday deals across their popular categories including, Toys & Games, Home & Living, DIY, Clothing, and so much more. Start adding products to your wish list today before stocks run out! 
Best Black Friday Sales in Toys & Games 

1. Kinderfeets Tent Age 3+ — Inspire imagination and a world of adventure with the wonderful Kinderfeets Tent! Suitable for backyard play or indoor camping, this tent is the perfect place to let kids explore the boundless opportunities of imaginary playtime. Shop more top gifts for kids in TheMarket's Black Friday Sale NZ.  
2. Ty Beanie Paw Patrol Rocky Age 3+ — Kids all over New Zealand have fallen head over heels for these adorable beanie babies from Paw Patrol. You certainly can't go wrong this year with one of these cuties underneath the Christmas tree! Don't miss out on the great deals on kid's soft toys on TheMarket. 
3. Sylvanian Families - Lakeside Lodge Age 3+ — Add to the fun of playtime with the Lakeside Lodge pack from the popular Sylvanian Families range. The pack comes with eleven lakeside themed furniture and accessories, including the main unit, hammock, stove, cooking net, marshmallows, and much more. Take a look at TheMarket's collection of top gifts for girls.  
4. Hape Fire Station Age 3+ — Delicately painted with safe water-based paint on natural wood, this Fire Station by Hape is perfect for kids obsessed with firefighters and their exciting work. The set includes the fire station, fireman, fire engine, fire helicopter, and so much more. Find more fantastic deals on creative & roleplay toys on TheMarket. 
TheMarket's Best Black Friday Sales in Home & Living 

1. Alfresco Stemless Flute Set of Four — We are heading into the party season, and nothing says class and sophistication like this stunning Alfresco Stemless Flute Set from Redcurrent. Each champagne flute is made from high-grade Tritan Acrylic, so you can let your guests wander around your home or garden without worrying about any breakages. Treat yourself this Black Friday with more wine glasses in TheMarket's range.  
2. Essteele Per Vita 4 Piece Cookware Set — Made in Italy, this beautiful copper base Cookware Set from the Essteele range is an absolute must-have for your kitchen. Each piece is entirely dishwasher safe and suitable for all cooktops. Browse more saucepans for sale in TheMarket's collection of cookware.  
3. Furi Pro Angular Block Set 8Pc — This Knife Set from Furi fits neatly into any nook of your kitchen and includes eight essential knives required for all cutting tasks. Each knife is carefully carved from Japanese stainless steel with enhanced grip and ultra-sharp blades for outstanding results. Shop other great discounts on kitchen knives on TheMarket.  
4. Ecoya Pine Lovers Set — In celebration of 10 years of this iconic scent, Ecoya has created the ultimate Fresh Pine Anniversary Gift Set containing the cult classic Ecoya madison candle, room spray and fragranced ceramic stone. Browse TheMarket's fab discounts on premium candles.  
TheMarket's Best Black Friday Sales in DIY, Garden & Pet Products 

1. GreenZone Barrel Planter Set — These authentically aged barrels are the perfect way to display plants and flowers in your garden. They come in three different sizes for a variety of home-grown plants and are totally weather-resistant for outdoor use. Shop the rest of TheMarket's beautiful gifts for gardeners.  
2. Makita 18V Drill Driver LXT 3.0Ah Kit — Compact but tough, this Driller Driver Kiket by Makita is a great all-rounder for home builders and professionals alike. The kit includes a cordless drill driver, cordless impact driver, 3.0Ah batteries x 2, DC18RC charger, and a carry case. Discover unbeatable Black Friday discounts on power tools on TheMarket. 
3. Swift Garden 7pc Ultimate Bundle - 40V Lithium Power — Get your garden into shape this summer with the 40V Lithium Power Garden 7pc Ultimate Bundle by Swift Garden. Boasting an electric lawnmower with a battery and charger, leaf blower, hedge trimmer, line trimmer and battery pack, this bundle makes a great outdoor maintenance solution. Keep shopping for more discounts on garden tools on TheMarket. 
4. Ollie & James - Leather Dog Collar in Blush — Crafted from genuine leather and dyed in creamy blush, this Leather Dog Collar from the Ollie & James collection will look beautiful on your little pooch. Find more stunning dog collars in TheMarket's Black Friday Sale.  
TheMarket's Best Black Friday Sales in Sports & Outdoors 

1. Bestway Hydro-Force Inflatable Kayak Lite-Rapid - 2 Person — Get out on the water this year with this Inflatable Kayak from Bestway. This sport kayak has two comfortable adult-sized seats and formfitting backrests that facilitate long paddling missions and epic summer adventures. Don't miss out on more of TheMarket's incredible deals on kayaks.  
2. Giro - Tyrant Spherical Helmet — Ride safely with the Tyrant Helmet from the Giro collection. The helmet is designed to meet the needs of progressive trail riders who are braving forest single tracks and dirt jumps. Keep shopping for more great discounts on mountain bike helmets.  
3. Madd Gear Kick Rascal Stunt Scooter Age 4+ — Reserved for the adventurous, the Rascal Stunt Scooter by Madd Gear is the ultimate scooter for young and fun riders. Check out the sweet deals on kid's scooters in TheMarket's range. 
4. Asics Gel Kayano 27 Women's Running Shoes — Asics have dominated the market for sports shoes by producing running shoes that combine advanced support with excellent comfort. The Gel Kayano 27 running shoe is designed with your foot in mind to help promote a more natural roll through your gait cycle while keeping your feet cool and comfortable throughout the entire run. Shop more great deals on women's running shoes.  
TheMarket's Best Black Friday Sales In Women's Clothing & Accessories  

1. PIA Boutique - June Skirt in Garden Dreams — Made in stunning printed metallic, this slip style June Skirt from PIA Boutique is perfect for an everyday summer look. To complete the outfit, match this skirt with the Vera Wrap Top in Garden Dreams. Shop other great discounts on women's clothing.   
 
2. Jo Mercer - Hartley Cross Body Bag Black Croc — If you're on the hunt for a bag that transitions easily from day to night, then the genuine leather Hartley Cross Body Bag by Jo Mercer is an excellent choice for you. Add more luxury handbags to your Black Friday wish list today! 
3. Lu Goldie Women's Brigitte Sunglasses — Look stunning this summer with these choc tort gold branded Brigitte Sunglasses from the Lu Goldie collection. Keep shopping for more new season women's sunglasses in our range.  

4. Sol Sana Tuesday Chain Slide Black/Gold — These handmade 100% soft leather Sol Sana Tuesday Slides are designed in a classic and relaxed silhouette to make the foot look slim and elegant. Grab yourself a pair this Black Friday before stocks run out! Shop more great deals on women's footwear.  
TheMarket's Best Black Friday Sales In Men's Clothing & Accessories 

1. Salty Crew Men's Tailed Straw Hat — Perfect for the avid fisherman or beach lover, this 100% sea straw Men's Straw Hat from Salty Crew comes in one size fits all and has an adjustable strap keeping his face and head protected all summer long. Find more popular sun protection in TheMarket's collection of bucket hats.  
2. Swim Short White Minimal Stripe — We adore this season's collection of menswear from Cotton On, and these stylish quick-drying Swim Shorts in Minimal Stripe are made to be loved by him and worn all summer long. Find more fantastic deals on men's shorts on TheMarket NZ.  
3. Ben Sherman Wallet And Belt Gift Set — Treat that special someone in your life this Black Friday with the gift of wardrobe staples. This stunning Wallet & Belt Gift Set by the iconic menswear brand Ben Sherman will be sure to dazzle any fashion-conscious man. Shop more top gifts for him this Christmas.  
4. Lacoste Men's Powercourt Sneakers — These luxurious Men's Powerscourt Sneakers by Lacoste are designed to perfection with their soft white leather uppers and the detailed green embroidered crocodile on the quarter. Keep shopping unbeatable deals on shoes for men in our Black Friday Sale.  
TheMarket's Best Black Friday Sales In Kid's & Baby Clothing & Accessories 

1. Cotton On Kids - Short Sleeve Hulk Pyjama Set — Perfect for the summer season, this relaxed fit Short Sleeve PJ Set by Cotton On Kids will keep your little one cool and comfortable all night long. Find more kid's clothing for sale this Black Friday.  
2. Mod & Tod Organic Muslin Swaddle — Soothe your baby into a peaceful night's sleep with the Organic Muslin Swaddle from Mod & Tod. The swaddle's buttery soft cotton material is kind and warm on your babies skin and the bamboo blend acts as an antibacterial and hypoallergenic barrier, making it ideal for every season. Shop TheMarket's full range of baby sleepwear.  
3. Mikihouse First Baby Shoes Navy Blue — Made of breathable and soft mesh material, these First Baby Shoes by Mikihouse are the greatest gift for your baby's delicate feet. Browse TheMarket's fab discounts on baby shoes.  
TheMarket's Best Black Friday Sales In Food, Wine & Beer  

1. Lyre's Non-Alcoholic Espresso Martini Gift Set — Teetotalling this Christmas? No problem, we've got you covered with the delicious Non-Alcoholic Espresso Martini Set from Lyre's. This unique set comes with Lyre's fresh roasted coffee orginale, an alcohol-free white cane spirit, and two luxurious coup glasses. Discover unbeatable discounts on popular gift sets this season.  
2. SeriousPopCorn The Serious Originals — Snack guilt-free with the 100% organic and sustainable SeriousPopCorn from the Serious Food Co collection. This pack includes all your favourite flavours including, sea salt, sweet & salty, and coconut & vanilla. Shop more great Black Friday deals on pantry food. 
3. Chateau de Roquefort Le Bon Vivant Cotes de Provence Rosé  — Bursting with freshness and aromas of white-fleshed fruits, this brilliant, opaline French Rosé is made to be enjoyed on a hot summer's afternoon. Browse more Rosé wine for sale in TheMarket's food & wine range.  
4. Pals Mixed Vodka Packs (4x10 packs) — Get stocked for summer with the Mixed Vodka Pack from New Zealand's favourite premium spirit and real fruit RTD, Pals. This value pack comes with all of the best flavours including, Watermelon and Mint, Lime and Soda, Peach and Passionfruit, and Mango and Pineapple. Find more fantastic deals on spirits all on TheMarket. 
Browse All The Best Black Friday Deals On TheMarket.com 
Shop till you drop this Black Friday with all of the best deals and discounts on amazing products and brands across TheMarket. We hope you get everything on your wish list, cos you absolutely deserve it! 
- This article is sponsored by TheMarket.com