Hilary Barry continues Formal Friday tradition with cricket-themed twist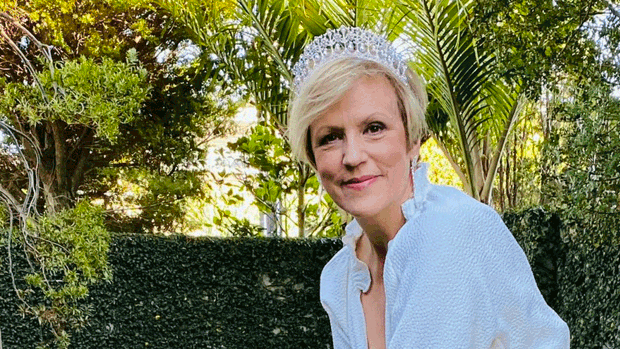 Hilary Barry has given this week's formal Friday outfit a sporty twist.
She shared a photo of herself in a white dress and her signature tiara.
"Donned my whites for a bit of backyard cricket. Had to watch out for Mr B's googly though," she shared on Twitter, showing off her batting stance.
Her followers shared their delight at her formal Friday outfit - and it inspired a hilarious meme.
"This! This is what NZ needs on a Friday," a Twitter user shared. "Thanks @Hilary_Barry for making my day!"
Another person shared: "We've just been knocked for 6, Hilary! Knockout!"
"Haha...loving the memes," Barry added later, re-posting an epic photoshopped version of her formal Friday outfit.
"Who would have thought my brief tenure in the Queen Margaret College 1st XI would take me so far?
Last week Barry stunned her fans with a gorgeous green gown, wig and tiara for her formal Friday outfit.
The TVNZ presenter shared: "I know you've lost track of the days but it's #formalfriday today so let's get it on!"
Barry announced she was bringing back her lockdown tradition in August as the country moved into Covid-19 alert level 4.
"Happy #formalfriday darlings!" she wrote. "Hope I don't spark a fire in the kitchen this morning.
"Found my sparkle. Now it's time to find yours."
This article was first published on the NZ Herald and is republished here with permission.