How this woman ended up with gruesome pus-filled blisters on her legs
Publish Date

Tuesday, 27 June 2017, 9:58AM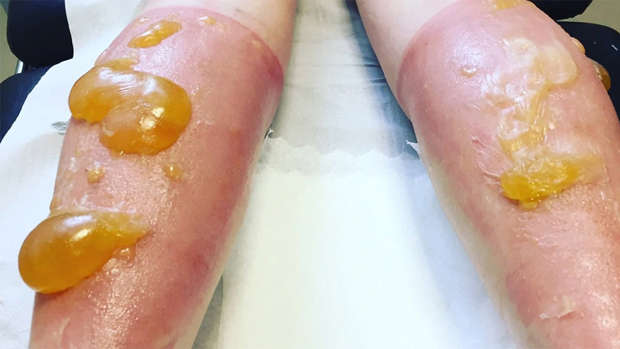 A long-distance runner was left with enormous pus-filled orange blisters on her legs after suffering from devastating sunburn during a 110km jog.
Mum-of-two Julie Nisbet, 34, was running from coast to coast along Hadrian's Wall between Carlisle and Newcastle for an ultra-run called "The Wall".
But after completing the 21-hour mega-marathon, Nisbet noticed small sacks of pus bubbling up across her red-raw calves, according to the Daily Mail.
After "screeching in pain" and covering the blisters in bandages, she went to hospital - but the "gruesome" blobs only grew larger.
Now one week on, 11-time marathon runner Nisbet, who lives in Shildon in County Durham, is still in agony.
She told MailOnline her family and friends were "shocked" and "didn't believe blisters like that could occur from sunburn".
But the charity worker and photographer said she took every precaution before getting cooked in the sun.
"I was wearing sun cream at the start of the race but hadn't reapplied - sweat and water had pretty much got rid of what I had on the backs of my legs," she added, explaining the temperature at its hottest was about 30C.
Discussing her ordeal online, she tagged posts with "#idiot" and "#sadv.
But she has taken the bad luck in her stride.
At one point she wrote: "Once the next lot of orange pus has been drained from my legs I'll probably lose another 4lbs!"
She added: "This isn't the end of the world. They're only scars. I'm sure I'll live to run another day."
This article was first published on Daily Mail and is republished here with permission.