How this woman nearly died and was left paralysed after having an orgasm
Publish Date

Tuesday, 27 June 2017, 8:35AM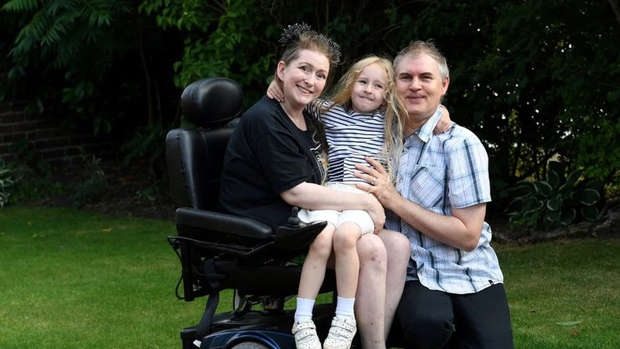 A woman in the United Kingdom has been left confined to a wheelchair after having sex with her husband caused her to have a stroke.
Lucinda Allen nearly died after having an orgasm that resulted in an excruciating headache.
The 38-year-old mum was six months pregnant when she was put into a medically-induced coma after a stroke left her permanently paralysed on her left side.
The West Midlands native said that headaches after sex were not uncommon for her, but on that particular day a sharp pain above her eye made her unable to even sleep.
She told The Sun: "I was writhing on the bed in agony and crying when Tony phoned my mum.
"I've experienced what's known as post-orgasm 'thunderclap' head-pain all through my adult life.
"The pain I usually have after orgasm is a bit like brain-freeze - quite painful but never lasts long.
"But after a while, I realised it just wasn't going away."
Lucinda was then rushed to Queen Elizabeth's Hospital and started to fear the worst when she was unable to speak.
Lucinda said: "I thought I might be having a brain haemorrhage. After that, it was a blur. All I remember is confusion, dreams and reality mixed together, fear."
While she was in a coma, she had a craniotomy, where part of her skull was cut open to release pressure built up on her brain.
Doctors feared the worst and prepared for an emergency delivery of the baby until scans revealed that the baby was fine.
After six days, Lucinda awoke from the coma paralysed and it was revealed that she has suffered a total of five strokes.
Lucinda said: "Waking after a coma is nothing like it is in the movies. It's a slow and confusing process.
"I was extremely distressed - suicidal at times - and I refused to acknowledge that I'd survived a stroke."
After three more months of intensive treatment in hospital, Lucinda returned home, only to return to the hospital two days later for a planned C-section.
Her husband Tony stayed by her side as she delivered a healthy baby girl, who they named Marri-Alice.
Lucinda admits it's hard not being able to run around and play with her daughter because she is bound to her wheelchair.
However, miraculously her face recovered from the collapse it suffered during her stroke.
Lucinda hopes that stem cell therapy could help her regain some movement over time, but she does wonder if her condition could have been prevented.
She said: "Nobody talks about post-orgasm head pain and that's understandable.
"But, because of what's happened to me, I am now on a mission to raise awareness of how this pain can be a warning sign of impending brain haemorrhage.
"Because of it, I have lost a huge part of 'me' - my career, any siblings my daughter may have had, my plans for the future."
Lucinda's neurosurgeon assured her that there was no need to worry about it happening again and that her love life shouldn't suffer.
He advised: "Although Lucinda's condition is very unusual in that it presented in pregnancy and caused a bleed inside the brain, people who suffer from HSA (headache associated with sexual activity) should be aware that the headache could be the sign of an underlying condition.
"If you get a headache during or after sex and the pain is severe, you should seek immediate medical attention, as this could be a sign that a brain haemorrhage has taken place. If it's the first time you've experienced post-coital head pain, it's advisable to see your GP.
"If the pain persists, go to the A&E department of your nearest hospital. If the post-coital head pain has happened before - if it's an episodic occurrence - and you're concerned, get advice from a neurologist and maybe get an MRI scan, just to rule out any underlying conditions or vascular malformation."
This article was first published on NZ Herald and is republished here with permission.