'I finally kept a secret!' Pink unveils surprise music collaboration and we can't wait for it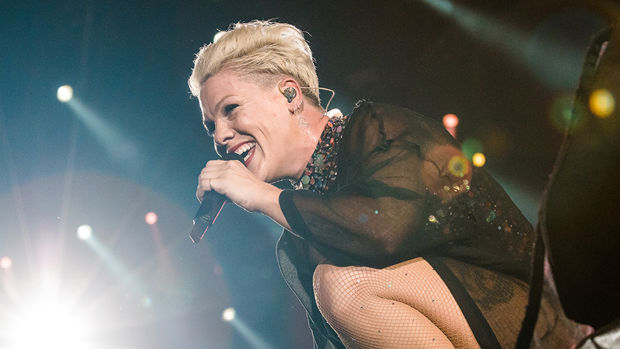 Pink has unveiled an exciting "secret" and we are so excited about it!
The So What singer took to Instagram to reveal that she has teamed up with British singer Rag'n'Bone Man - who is best known for his hit song Human - for a brand new collaboration.
"I finally kept a secret. I love you Rag'n'Bone Man and I can't wait for everyone to hear us together," Pink wrote alongside a black and white photo of the two of them.
Pink also revealed that fans won't have to wait long to hear the new track, titled Anywhere Away From Here, with the song set to debut on April 9 2021.
Meanwhile, on his own Instagram account, Rag'n'Bone Man - whose real name is Rory Charles Graham - wrote: "Been keeping this one quiet for a while ... My next single Anywhere Away From Here is with the incredible Pink."
We can't wait to hear the song for ourselves!
The news comes after the Walk Me Home hitmaker announced that she is debuting her very own original movie with Amazon.
Titled All I Know So Far, the concert documentary is set to showing fans all the behind-the-scenes of what really goes into putting on her world-class live performances.
Pink took to Instagram to share the poster for the flick, which showed a sweet moment between her and her toddler Jameson before her concert at Wembley Stadium.
"Starring the cutest kids, made by me. I'm in there, too," she captioned the post. "Come jump on the tour bus and see how it really goes. Cause it's Wembley F*cking Stadium."
The music doco - which will feature particularly on her record-breaking Beautiful Trauma tour - is directed by none other than Michael Gracey who is known for his work on The Greatest Showman and Rocketman - so Pink fans are sure to be in for a treat!
All I Know So Far is set to stream on Amazon Prime from May 21. We can't wait!