Is this Kiwi gender reveal party the most 'bogan' ever?
Publish Date

Wednesday, 7 March 2018, 10:00AM
When you think of gender reveal parties, most people would picture cake, balloons and plenty of parenting games.
But for one West Auckland family, they've taken their baby gender reveal party to bogan status.
Instead of the cute games, the Westies decided to reveal the gender of their soon-to-be addition to their family by doing burnouts in a car.
Revving the engine, the tyres began to smoke up before the car slowly takes off down the street, releasing balloons from the boot of the car to reveal the baby's gender.
The street was full of onlookers with supporters cheering and clapping after pink balloons rose into the air.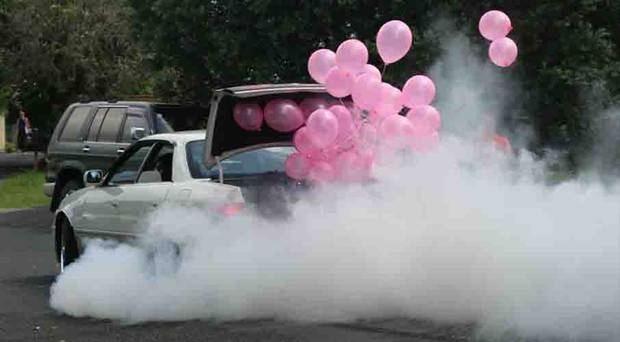 Is this the most West Auckland gender reveal party ever? Photo / Facebook
The family was praised by locals after their courtesy letter to neighbours warning them of their plan was posted to a community page on Facebook.
The letter read: "Hello neighbours, I am just writing to inform you that on the afternoon of Saturday 3rd of March there is going to be a burn out that takes place on our property as part of a gender reveal party.
"We apologise in advance for any disturbance this may cause as it will most likely be loud but we would like you to know it will only involve the one car for no more than a few minutes and will not be on the road so traffic through the street should not be disturbed. Thank you."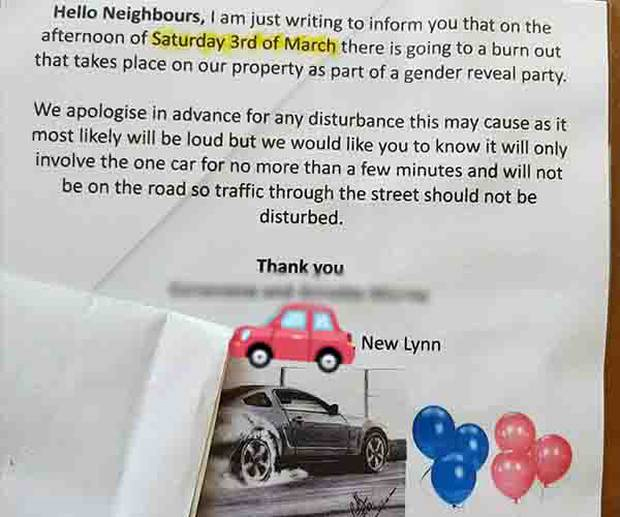 Neighbours received a letter in the lead-up to the gender reveal party. Photo / Facebook
Following the successful event, images and video were uploaded to a community Facebook page with one of the hosts thanking those who came out to celebrate and shot down any backlash.
"It was all in good fun and we decided it only fair to warn neighbours of the noise. We also timed it so it was after our neighbour's kids' naps not to wake them up," the host wrote.
"Don't care if people think the gender reveal is bogan as. It was an awesome day and lots to celebrate."
The event was met with admiration on social media with many saying they wish they were there.
One person stood up for the family against critics, saying everyone celebrates differently.
"Everyone celebrates in different ways. I love that it was done in a way that was obviously fun for the couple. And so nice to give a courtesy note to the neighbours. A lot of people wouldn't have bothered. Looked like a fun day!"
Others praised the family's courtesy to neighbours, with many saying they were "considerate and polite" and that they "wish I had you guys as neighbours".
Another joked, saying: "A courtesy letter, are you sure it's West Auckland?"
This article was first published on NZ Herald and is republished here with permission.