It seems Crocs are now a high fashion must have ...
Publish Date

Wednesday, 4 October 2017, 3:00PM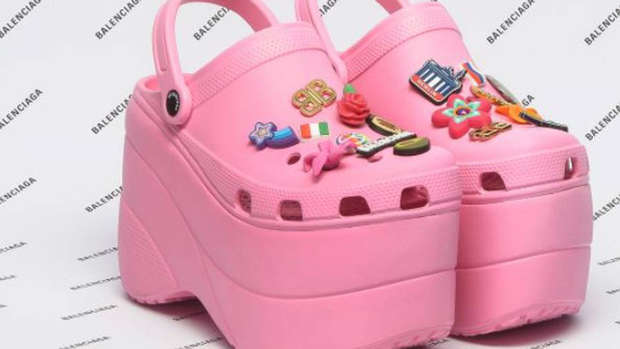 For years, the fashion crowd dismissed Crocs without a second glance. Wearing them, under any circumstances, was fashion suicide.
But that may be changing now that designers are getting their hands on the "comfy" shoes and putting their own twists on them, according to the Daily Mail.
At Paris Fashion Week on Sunday, Balenciaga sent models down the runway wearing Croc-like shoes - and quite a few fashion lovers on social media are applauding them.
Balenciaga's modified Crocs hit the runway. Photo / Getty Images
Balenciaga's Crocs aren't the typical rubber clog - they're bigger. Creative director Demna Gvasalia put them on stacked soles, creating platform Crocs.
They have several inches of rubber platform, and the tops are decorated with pin embellishments.
There are rainbows, stars, and flowers, country flags, peace signs, and animals around the holes on top.
"When Balenciaga approached us, we were intrigued by the opportunity to push the boundaries of our design and molding capabilities to see what we could create together," Michelle Poole from Crocs said, according to Elle.

"Working with Balenciaga has been so much fun for our team, and once again demonstrates the relevance of our iconic clog in today's fashion and design world, as well as allowing us to tap into the excitement and energy that comes from unexpected partnerships."
Unsurprisingly, fashion fans are a bit divided over the new look. Some called them "horrifying", "disgusting", and "horrendous", with one saying, "our worst fears have come true."
Others, though, can't wait to buy them.
"My birthday is in 28 days and all I want is some money and those Balenciaga Platform Crocs," wrote one fan on Twitter.
"Balenciaga out here making platform Crocs," wrote another. "I'm here and alive for this."
Perhaps it is that people have had some time to get used the idea of designer Crocs.
Last year, Christopher Kane debuted his collaboration with the brand, showing Crocs with animal prints and geode embellishments.
Christopher Kane's take on the Croc last year. Photo / Getty Images
This article was first published on Daily Mail and is republished here with permission.