It turns out this is the reason why coffee makes you poop according to science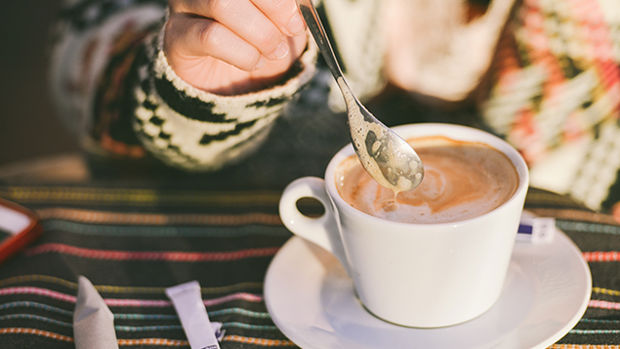 For some people, coffee brings on a lot more than just a caffeine buzz.
About 30 percent of humans feel the need to poop after drinking their morning brew.
If you're one of those lucky people, you've probably wondered why it happens.
Most of us put the blame on caffeine, but think about it: Soda doesn't have the same effect.
And studies have found that decaf coffee can have a laxative effect, too.
Scientists have discovered that coffee stimulates the distal colon, which helps push waste out of the body more quickly.
But what triggers it?
Apparently, experts aren't entirely sure why coffee has this effect on some people, but there are some theories...
It's possible that the acidity of coffee is the key: Coffee has a compound called chlorogenic acid that triggers higher stomach acid levels and also higher production of gastric acid. Meaning it could be that the overall acidity bump makes the stomach dump its contents out more quickly than usual.
Something in coffee may also trigger the release of hormones that aid digestion, which would speed up bowel movements.
"Basically coffee stimulates the contractions of the stomach and intestinal tract, and it stimulates bile excretion, which itself is a propellent of food particles because the intestines know that when there is bile there is food," says colon health specialist Dr Dmitri Alden. "Coffee also helps to release gastrin, a hormone that plays a role in the motility of the intestinal tract."
But if your post-latte poop happens every morning, it might not be the coffee at all.
It could just be that your gastrointestinal tract is waking up after being inactive all night. That's called the gastrocolic reflex, which happens when food or drink enters an empty stomach.
"When you have coffee first thing in the morning, it triggers the gastrocolic reflex, which is a hormonal message sent to the colon that it's time to contract to make room," says gastroenterologist Dr. Robynne Chutkan.
If you are one of the 30 percent who poos after coffee, just remember it's totally normal and you're not alone!
Check out Jono and Ben's podcast on iHeartRadio.