It turns out you can now stay at the 'Home Alone' house just in time for Christmas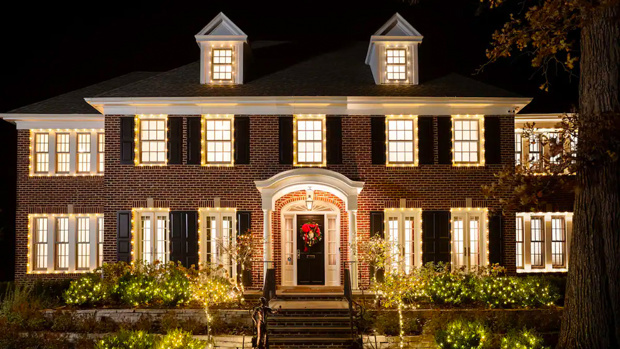 The '90s blockbuster hits Home Alone and Home Alone 2 are without a doubt two of the best Christmas movies of all time.
The red brick McCallister family home, located at 671 Lincoln Ave in Illinois, is as easily recognisable decades later, and now, Home Alone fans have the chance to stay there!
The house has been listed on Airbnb, welcoming guests for a night of "holiday hijinks" inside the stunning mini-mansion.

"While we're away on vacation (all of us, this time), I'm inviting one crew of mischief-makers to let their inner eight-year-olds run free in my childhood home on Dec. 12. Booking for this one-night stay opens Dec. 7 at 1 p.m," the Airbnb host Buzz - Kevin's older brother - writes on the listing.
"It's a holiday wish come true: a cozy holiday scene with twinkling lights and a perfectly trimmed tree awaits you at the McCallister 'castle' (oh, and so does my pet tarantula – mind watching him for me?), now bookable for the very first time.
"This holiday season, we're playing by my little bro's rules, so feel free to eat junk food, watch rubbish on TV, borrow my dad's aftershave and choose your own adventure with a legendary battle plan as a guide. Just stay out of my room, okay?" the description continues.

"After you've worked up an appetite, you can feast on all the comfort food your heart's desire, including plenty of Chicago's finest pizza and a candlelit dinner of microwavable Kraft Macaroni & Cheese."
"Then, when you're ready to wind down, you can enjoy a viewing of the film franchise's newest holiday adventure, Home Sweet Home Alone, on Disney+."
To celebrate the first-ever stay at the McCallister home, Airbnb has pledged to make a one-time donation to Chicago's La Rabida Children's Hospital, "which is dedicated to maintaining and improving the quality of life for each of its patients with complex conditions, disabilities, and chronic illness".

So it's all for a good cause too!
Guests who manage to book the house will also be shown around by a member of the "McCallister Security team", who will also arrange meals. They will also receive a free LEGO Ideas Home Alone set to take home with them.
How cool is that? We're already packing our bags!