Jacinda Ardern gives update on what New Zealand can expect as we continue in Alert Level 2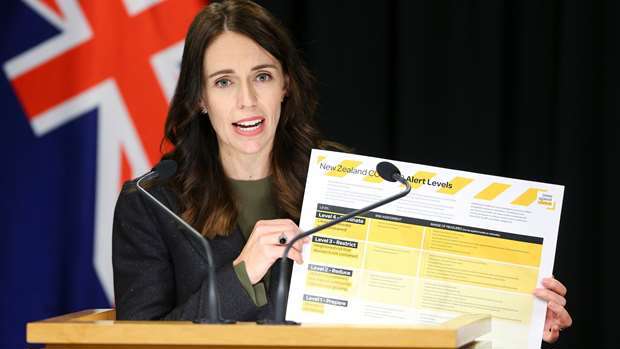 Prime Minister Jacinda Ardern said the Government on Monday will consider increasing the maximum size of gatherings under alert level 2.
The current rules cap the number of people allowed to gather in one group at 10.
The Government also has the option to further relax physical distancing rules, as it gets Covid-19 data back.
This could come while New Zealand is in level 2, she said.
She said this was "nimble approach".
Ardern said New Zealand will stay in level 2 until the Director-General of Health advises it is time to move.
However, she said the Government would continue to make "incremental" changes.
"At this stage, we remain cautiously optimistic."
In terms of the next steps for gathering rules, she will seek advice from Ashley Bloomfield.
Ardern suggested it was likely the increase on the cap would be smaller at first, rather than going from 10 to 100.
For example, it's likely to move gradually - 20 people one week, 30 the next.
Ardern said the Government will continue to test for Covid-19 and said it's part of the "new normal".
But she said amendments to border rules can happen at any level.
For example, she said a trans-Tasman bubble could occur in level 2 and that at alert level 1 there would still be some restrictions around the border.
But a lot of things that prohibit business activity will be removed.
She said many people want to return to normal as soon as possible.
But she said there is no timeframe around when New Zealand will go into level 1.
Ardern said there were "pros and cons" about creating a new public holiday and wants to hear from businesses as to what they would like.
She would not provide much detail, other than she did not want to be dismissive of "extraordinary ideas".
Key points about what we can expect as we continue in alert level 2:
Widespread surveillance and contact tracing continued.
Physical distancing continues to be recommenced.
Stay home if you are sick.
Measures at the border continued.
Bars reopen tomorrow (May 21) with seated patrons, tablet service and socially distanced.
Alert level 2 settings will be regularly adjusted throughout level 2 on a fortnightly base.
First alert level 2 settings check will happen on Monday (May 25) where the government will potentially extend the group gathering number from 10 to something larger.
Physical distancing may also be relaxed on public transport and planes, but this will be announced on May 25.
Phased de-escalation will be key.
Find out more information about Alert Level 2 at covid19.govt.nz.
This article was first published NZ Herald on the and is republished here with permission.