Kate Middleton opens up on hypnobirthing, mum guilt and raising royal kids in new podcast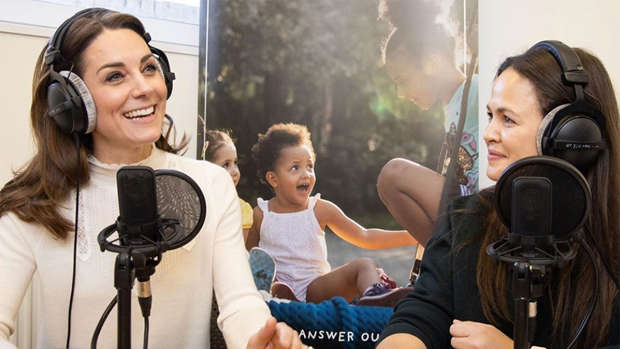 Duchess Catherine has opened up about giving birth and parenting three young royal children.
The 38-year-old royal - who has kids Prince George, six, Princess Charlotte, four, and 21-month-old Prince Louis – revealed that she turned to hypnobirthing techniques when she was in labour.
Talking suffering hyperemesis gravidarum, a severe form of morning sickness, Kate Middleton revealed she turned to hypnobirthing techniques to get through it.
Talking to Giovanna Fletcher on the Happy Mum, Happy Baby podcast, she said: "I was really sick, I wasn't eating the things I should be eating, but yet the body was still able to take all the goodness from my body and to grow new life, which I think was fascinating.
"It was definitely a challenge, not just for me but also for your loved ones around you.
"Being pregnant and having a newborn baby impacts everybody in the family.
"William didn't feel he could do much to help, and it's hard for everyone to see you suffering without actually being able to do anything about it."
Speaking more on hypnobirthing during the labour process, Kate explained: "I really realised the power of the mind over the body, because I really had to try everything and anything to help me through it.
"I'm not going to say that William was standing there, sort of, chanting sweet nothings at me. He definitely wasn't. I didn't even ask him about it, but it was just something I wanted to do for myself."
"Because it had been so bad during pregnancy, I actually really liked labour, because it was an event that I actually knew there was going to be an ending to," she said.
"I saw the power of it, the meditation and the deep breathing and things like that, that they teach you in hypnobirthing when I was really sick, and actually I realised that this was something I could take control of during labour.
"It was hugely powerful."
Kate noted that, like a lot of mothers, she also experiences 'mummy guilt'.
"[You] always sort of questioning your own decisions, and your own judgments, and things like that, and I think that starts from the moment you have a baby," she said.
The Duchess also talked about how she and her husband Prince William decided to present their three children to the world outside the hospital as she wanted to "share the joy" of their arrival with the "supportive" public.

She said: "I was keen to get home because, for me, I had all the memories of being in hospital because of being sick so it wasn't a place I wanted to hang around in. So, I was really desperate to get home and get back to normality ...

"Everyone had been so supportive, and both William and I were really conscious that this was something that everyone was excited about. You know, we're hugely grateful for the support that the public had shown us, and actually for us to be able to share that joy and appreciation with the public, I felt was really important."

And the Duchess of Cambridge admits she was "slightly terrified" about being faced with the world's media outside St Mary's Hospital, London, confessing there was a lot of "mixed emotions" as they felt like "inexperienced parents".
Asked what it felt like knowing people were waiting outside the hospital - both royalists and the world's media - whilst making an appearance on the Happy Mum, Happy Baby podcast, hosted by Giovanna Fletcher, she shared: "Yeah, slightly terrifying, slightly terrifying, I'm not going to lie ... But equally, it was coupled with a newborn baby, and inexperienced parents, and the uncertainty of what that held, so there were all sorts of mixed emotions."
Kate - who married Prince William in 2011 – also opened up about trying to appreciate the simple things in life.
"I think the things that really resonate with me most is the simple things," she shared. "I see that even now with my own children, is actually, ... life now is so busy, so distracting, and actually sometimes the simple things like watching a fire on a really rainy day provides such enjoyment.

"I remember that from my childhood - doing the simple things, going for walks together - and that's really what I try to do with my children as well because it totally strips away all the complications, all the pressures as a parent.

"And I think these experiences as well mean so much to children and the world that they're in, which is a real adventure, really, for them."

The Duchess tries to remind herself of her life priorities on a "daily basis".
"I've got this one photo of Charlotte smelling a bluebell, and really for me, it's moments like that mean so much to me as a parent," she noted.
"I try every day to put moments like that in, even if they're small or even if I don't have time".

The British royal also acknowledged that she and her husband are bound to face their own "complications" as parents, especially as their children get older.

Appearing on Giovanna Fletcher's Happy Mum, Happy Baby podcast, she said: "I think as parents, we have to try and remember through the complications of our children growing up, that ultimately it's the really simple things that really do matter and if nothing else, that's what I really try and remind myself on daily basis."
Listen to Kate Middelton's interview on Happy Mum, Happy Baby: