Kate Middleton shares three adorable new photos of her royal children with their father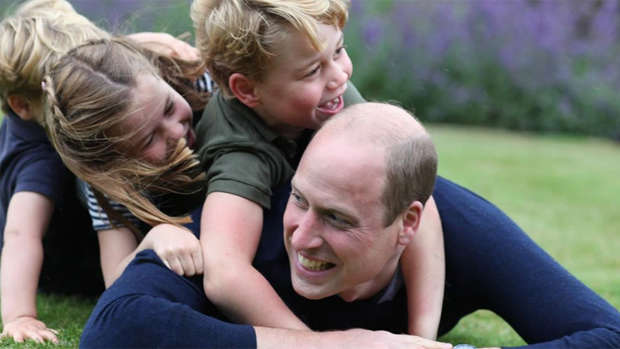 The Duchess of Cambridge has unveiled three new family photos she's taken and they might be some of the most adorable ones yet.
Sharing the snaps on Instagram, Kate Middleton showed the images her husband Prince William with their three royal children, Prince George, six, Princess Charlotte, five, and Prince Louis, two. 
The first portrait showed them all on a swing together, with young Prince Louis smiling while sitting on his father's knee.
Two other photos that were posted today show the brood rough and tumbling with the future king on the grass.
All the photos were taken by Kate to celebrate Prince William's 38th birthday.
Another photo was also shared, featuring Prince William with his father Prince Charles to celebrate both Williams' birthday and Father's Day in the UK.
So sweet!
Meanwhile, proud father William says children have been "attacking" the kitchen whilst trying to bake during the lockdown.
The Duke of Cambridge visited Smiths The Bakers, which provides tasty treats to Queen Elizabeth's Sandringham estate, where he discussed what he and his wife, the Duchess of Cambridge, had been doing to keep their kids busy in quarantine due to the coronavirus pandemic.

Speaking to the owner Paul Brandon, he said: "Well, I've done a little bit of baking. The children have been attacking the kitchen and it's just been an explosion of flour and chocolate everywhere. Catherine's been doing quite a bit of baking."
The 38-year-old royal revealed the family had been doing a "lot of baking" during lockdown and joked he was "worried about the waistline of the nation" due to people having more time to eat treats while isolating at home.

He said: "I'm worried about the waistline of the nation as well with all the chocolate and cakes. I've done a lot of baking at home. Chocolate goes down very well."

We wonder if the royal children helped make their dad a birthday cake this year!
- The Hits, additional reporting by Bang! Showbiz