Kate Middleton shows off impressive rugby skills after being named English rugby patron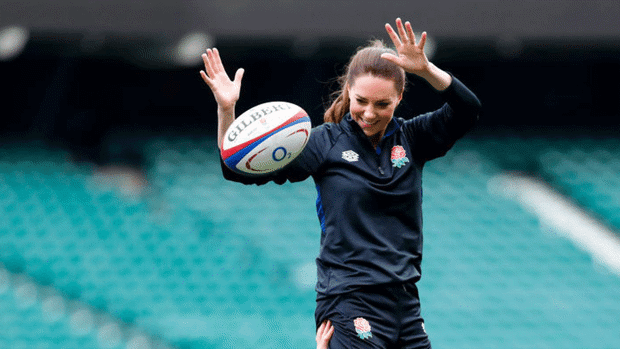 In an announcement posted to social media, the Duchess of Cambridge has become the first member of the Royal Family to take over one of Prince Harry's patronages.
The Duchess has today been revealed as the new figurehead of England Rugby in a fun video where she showcases her rugby skills alongside other famous sporting faces.
While her brother-in-law, Prince Harry, previous held the roles, Kate today took over as the new patron of the Rugby Football League and the Rugby Football Union.
Sharing the news on social media, Kate said she is excited to support "two fantastic organisations who are committed to harnessing the power that sport can have in bringing communities together and helping individuals flourish".
She also shared a video where she showed off her impressive rugby skills on the grounds of Kensington Palace and even attempted a ball spin on her finger.


Photo / Instagram
But the news will pit her against her husband Prince William, who has been the patron of the Welsh Rugby Union since 2016.
Ralph Rimmer, chief executive of the Rugby Football League said: "We are truly honoured by the appointment of The Duchess of Cambridge as the Rugby Football League's Royal Patron.
"We are delighted to welcome her as we prepare to host Men's, Women's, Wheelchair and Physical Disability Rugby League World Cups in England this autumn.


Photo / Getty
"Our sport's history has been built on a commitment to tackling inequalities and we honour that through our focus on having a positive social impact well beyond the pitch.
"We look forward to working with The Duchess in the years to come, and I know all levels of our sport will welcome her to the Rugby League family."
This article was first published by the NZ Herald and is republished here with permission.