Kiwi cafe sparks outrage following "disgusting" response to mother's change table request
Publish Date

Friday, 26 October 2018, 9:55AM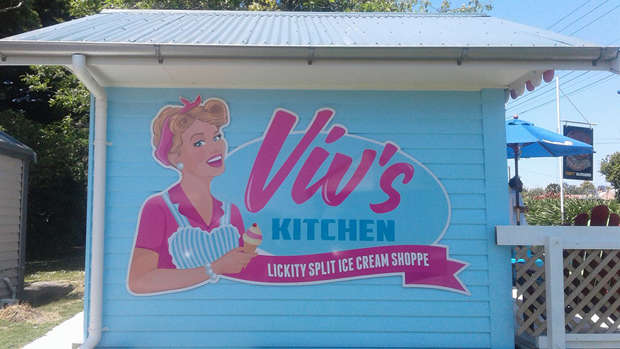 A Sanson cafe in Manawatu has come under major fire for the way they responded to a customer's request for a change table in the men's toilets.
Viv's Kitchen have controversially suggested changing nappies is something mothers should only be doing.
Taking to the cafe's Facebook page on October 21, Rebecca Williams, wrote: "Hi there! We love your cafe, and often stop on our way to our Turangi holiday home from Wellington. Just some feedback - please consider putting a change table in the men's toilets."
"It is dad's responsibility too to change their baby's nappy, and not just fall back on mum. It sounds pedantic but it's a super important way of messaging that looking after our children's needs is a parental responsibility, not just a mum's job."
READ MORE:
• Woman sparks outrage after revealing she sedates her kids
But when the Kiwi mum initially got no response she decided to follow up a few days later.
This time, she received a reply ...
"The reason for the delay in a response is due the fact that we have a lot more on our plate to worry about than another change table being put in the men's toilet."
"I have however asked numerous people about their opinion on this and have to say your request is very much in the minority," Viv's Kitchen wrote. 
"At Viv's Kitchen we endeavour to create an atmosphere of times gone by when mums were the ones who changed their babies, however fathers are more than welcome to use the changing table in the ladies if they request to do so."
And parents are not impressed.
Popular New Zealand writer Emily Writes said: "'Times gone by' Good lord that's a new f******g spin on 'In my day' what a load of s**t. Good on you Rebecca for saying something. Ugh ... This was such a polite request and they not only replied in a s****y way, they also shared it on their Facebook page further have a go at Rebecca."
"I doubt most men would feel comfortable asking to use the women's bathroom to change their child. Women wouldn't feel comfortable using a men's bathroom to change their child. Men are parents, not just weekend warriors," wrote another.
A third added: "I'm appalled that you are not willing to support fathers in their role as fathers in current times by hiding behind your 'trying to create an atmosphere of times gone by'. A simple thing as a change table or unisex toilet allows us to move forward from the misogynistic parts of those "times gone by" we as society should be moving on from."
"I think it's reasonable to make suggestions, a change table is about $100 and as a customer I would have contributed if cost is an issue. I don't like the negative way in which Viv's has publicly posted the exchange and asked for opinions when it's clear from the comments you want people to criticise the poster. Your response of supporting a 'time gone by' where only woman change children is really disappointing. it doesn't represent the values of NZ now and I thought you were about celebrating the best of the past in the here and now," someone else said.
Others called the response "ghastly" and "disgusting".
READ MORE:
• Mother causes outrage online after letting her nine-year-old son get a tattoo
In a public Facebook post, which has since been deleted, the cafe wrote: "To be honest we can't believe what some expect from us. We have a brand new changing table at a cost of $500 in the womens toilet, but obviously that is not enough for some."
"That's not the only thing that bugs us, it's the PC world we live in and are expected to conform to!! Why does what this woman believe in, be the way we are expected to run our business. As we say, we base our cafe on the way things use to be ... before the world went mad and so damn PC."
Viv's Kitchen co-owner Kevan Withers told the New Zealand Herald he and his wife pour their heart and soul into the business and they will "stick to their guns".
"We are honest and upright and we speak from our hearts. We are being told what to do by everyone. We are going to run our business as we see fit," the cafe owner said.
"The cafe is themed on yesteryear. We don't have fettuccine or avocado. Our customers are not millennials. My wife and I will stick to our guns."
What do you think?