Kiwi Dad-to-be's amazingly clever baby announcement will make you giggle
Publish Date

Thursday, 22 March 2018, 11:00AM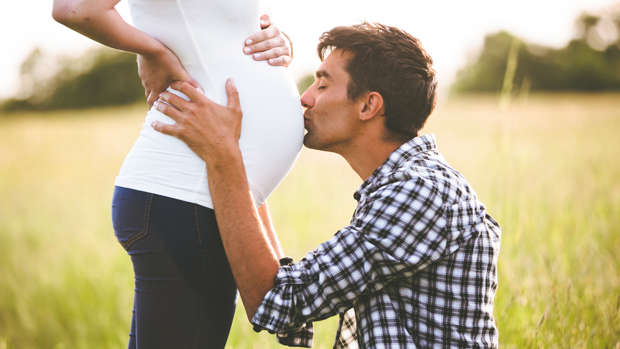 It can be hard coming up with a creative way to announce that you're having a baby ...
Especially when it comes to telling all of your friends and family on social media!
One Kiwi Dad-to-be managed to come up with a fun and creative way to reveal that he and his wife are expecting their first child, in a way that made his friends on Facebook do a double take.
Bernie Cowan of Tauranga shared a photo of an invoice that he had received, writing in the caption: "Got this weird invoice in the mail today - any ideas?"
"Maybe Vika Cowan knows what it's about?"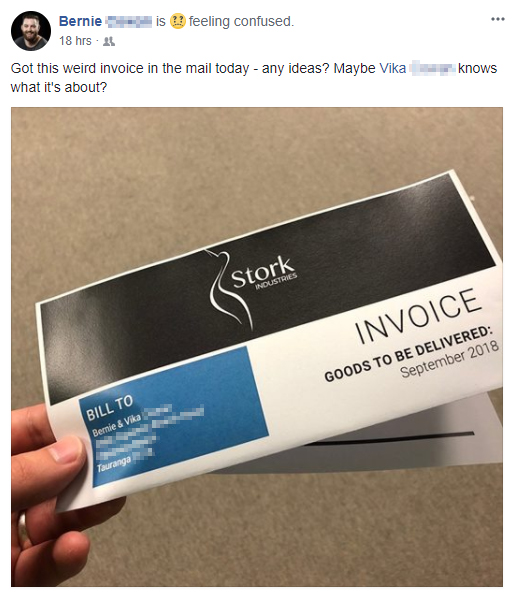 Photo / Facebook
Upon closer inspection, it turns out his 'invoice' was actually from Stork Industries, letting the couple know that they can expect their "good to be delivered" in September later this year - the due date of his little bundle of joy.
Bernie told The Hits he had been mulling over the perfect way to unveil the news online for quite a while.
"I was thinking about how to do it for ages," he said, "I didn't want to do the same old thing."
READ MORE:
Since it was posted, the photo as received numerous likes and comments, with people sending their congratulations to Bernie and Vika.
One person wrote: "It took me a while, but I figured it out haha! Congratulations guys!"

Another added: "Haha, oh my goodness, that took embarrassingly long to figure out! Very well done! Congratulations!!!"
Someone else joked about how Bernie and Vika can tackle the 'invoice', writing: "A huge investment, but you can pay the bill in rates over approximately the next 18 years.
"And it's worth the price!"