Kiwi singer reveals the truth behind her Harry Styles face tattoo
Publish Date

Tuesday, 29 January 2019, 12:30PM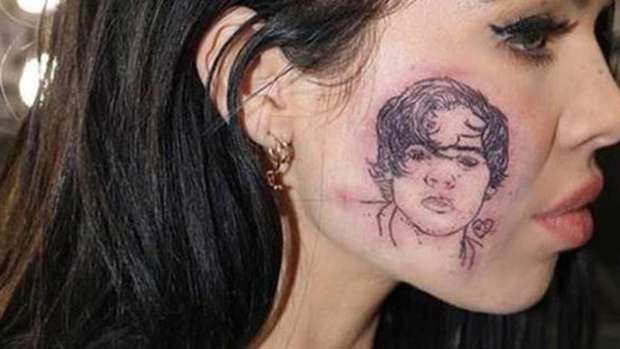 With the hope of "catching the pop star's attention" a Kiwi singer made headlines around the world last week after she drastically got Harry Styles' face tattooed on her own face.
But the New Zealand-born, Gold Coast-raised singer, Kelsy Karter, has since revealed the picture of Harry Styles on her right cheek is fake.
That's right. Fake.
Revealing all in a YouTube video, Karter admitted the fake tattoo was actually a stunt to get her music noticed — and it worked.
She begins the video by explaining what inspired her to make a song about Harry Styles in the first place.
"In April of 2015, I was going through the hardest time of my life. My dog Diva died, my relationship ended, and the last thing I wanted to do was write another sad song about it," the singer wrote in the video.
"Ant saw Harry on my lock screen and said: 'Let's write a song about him instead.' So we did."
"A week later, we made a music video. For $300. Directed, produced, edited by me. Then, we shelved it for six months. And wrote the rest of the record."
So when it was time to release the song, the 25-year-old wondered how she was going to "cut through the noise to get noticed."
"After weeks of going back and forth, arguing, debating, crying and yelling [we asked ourselves] what would the rock legends that inspired me have done in 2019?"
"Let's tattoo Harry Styles' face ... on my face."
"Every major publication and news outlet in the world covered the story and more importantly the song. I had your attention," she continued.
She then explained that she went into hiding for three days as TMZ was looking for her.
"My friends and family were freaking out. We got calls from talk shows, radio stations, YouTubers record labels and every other human being we've ever met. Everyone wanted to see my Harry tattoo in person."
She then reveals they attempted to put it back on, but it turned out worse than the previous one — and had trouble getting it off. So they then decided it was time for the world to know their secret.
"The tattoo was not real," the singer admitted.
"This has always been about rock and roll. Harry is an anthem for the fans. The tattoo is gone. All that's left is the music. Which is what my rockstar team and I had planned all along."