Kiwi vet students strip down in nude calendar and it's all for a good cause
Publish Date

Wednesday, 28 March 2018, 9:00AM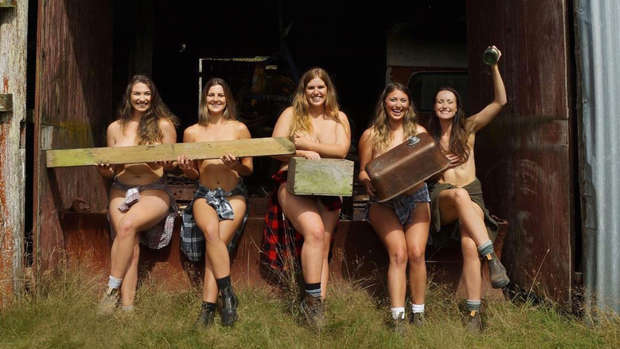 Vet students have stripped off for a very racy calendar to celebrate making it halfway through their degrees.
Students at Massey University in Palmerston North took part in the photoshoot to raise money for charity, the Daily Mail reports.
Around 50 students got involved, striking cheeky poses with strategically-placed animals, farming gear and hats to preserve their modesty.
The naked calendar has now become an annual tradition for third-year veterinary students at Massey University.   
Proceeds from this year's calendar will go to the Retired Working Dogs charity, as well as funding a day of celebrations to mark the students making it halfway through their degree.   
The vets-in-training normally celebrate "Half Way Day" by enjoying outdoor activities such as whitewater rafting, skydiving and bungee jumping.    
Aimee Alexander, who helped coordinate the calendar, explained how the project came together.
She said: "People in the class split into their various friend groups for their month group photos.
"Most groups had one person in them that knew a farm in the area that made for some good photos.
"My group, for example, went to my partner's farm, and we drove around looking for great New Zealand scenery that would look amazing in the photos.
"Other groups really wanted to incorporate their own pets, so would pose with their dogs or horses on a farm."
Student Hannah Burrows, who took part in the shoot, added: "Getting ready for a naked photo, with 50 other people from your class, was certainly an experience.
"But we have all come to be good friends over the past two and a half years of our degree, so managed to laugh it off and enjoy the photo shoot."
Tommy Mills, another student who took part, said: "Despite a bit of awkwardness at the start, it was all worth it for a good cause."
Retired Working Dogs is a charity dedicated to finding loving homes for animals who've finished up their jobs so they can have the retirement they deserve.
The calendar, which is released tomorrow, is shipped internationally and can be purchased for $15 from the Barely There Vet Calendar website.
This article was first published on Daily Mail and is republished here with permission.