Kiwi woman comes to the rescue after 'prison break' van crash at doggy daycare
Publish Date

Wednesday, 20 June 2018, 3:00PM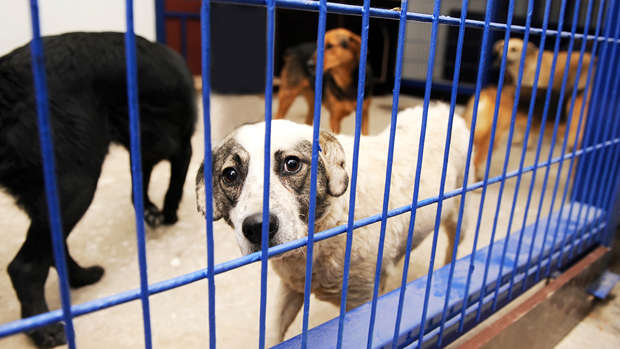 A Kiwi woman was quick to come to the rescue after a van crashed through the wall of a doggy daycare.
Personal trainer Sonjia Peck took to Facebook to share the frightening moment a van suddenly "smashed" through the roller door of Pinky's Pet Boarding in Botany Junction - setting loose approximately 5 to 6 dogs.
"This white van smashed through the doggy daycare by our gym and all the dogs bolted," she wrote, going on to explain how she and several others from Auckland gym Zero-2-100 chased down the scared pups.
"Me and my gym class hero's bolted after them. I got the poor wee old black one from behind the dumpsters, Nik saved the poodle, and Mike cradled the poor Hairy Maclary in his arms that got hit by a car as it bolted off."
"All dogs [are] accounted for except one small tan dog."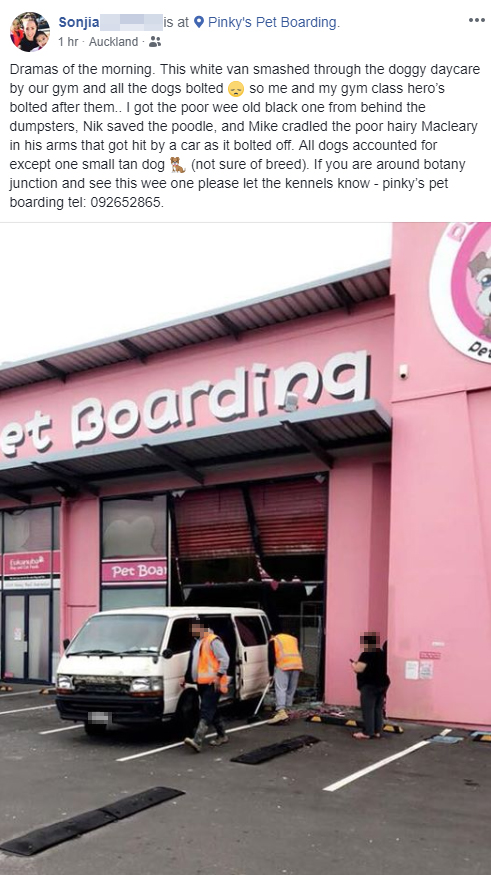 Sonjia's post to Facebook about the scary crash. Photo / Facebook
Speaking with The Hits, Sonjia - who witnessed the incident - said the van moved "suddenly fast" causing it to "smash through the roller door that the dogs were directly behind".
"It was like a 'prison break' type thing! Dogs were injured in the crash – the one I picked up has a bleeding leg."
Dogs apparently bolted in all directions, with the missing dog having run through a fruit store nearby and towards Te Irirangi Drive.
"Mike the gym owner picked up the one that had run to the main road and it was limp after being hit by a car," Sonjia continued.
"I asked when I returned if that dog was alive and they said yes but losing a lot of blood."
Sonjia also urged people to contact Pinky's Pet Boarding on 09 265 2865 if they spot the missing dog.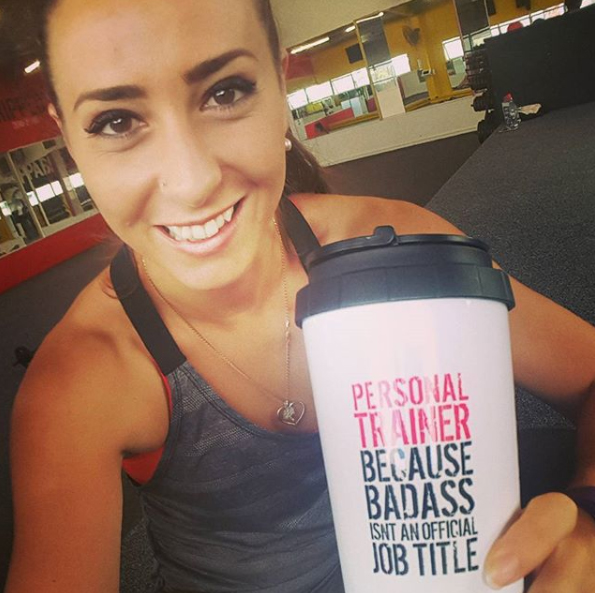 Sonjia and others from Zero-2-100 gym helped to catch the runaway dogs. Photo / Instagram
Meanwhile, the driver of the van was reportedly approached by a nearby police officer.
"Coincidentally there was a policeman in the bakery next door so he came across right away to hear the story," Sonjia confirmed.
It is believed that the crash was an unintentional accident by the driver, who according to Sonjia "felt like absolute c**p after it happened".
The Hits reached out to Pinky's Pet Boarding who declined to comment.