Kiwi women share their romantic stories of how they popped the question to their man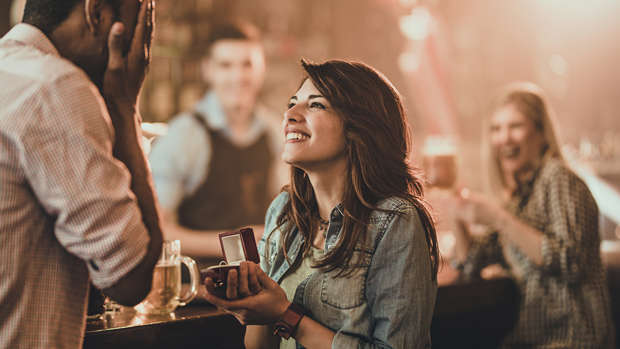 Love is in the air this February, especially with 2020 being a Leap Year.
For centuries February 29 brought around the Irish tradition of women flipping the script and popping the question to their man.
And while in 2020 anything goes when it comes to proposals it seems the majority of women would still prefer to wait for their bloke to get down on one knee, rather than asking them.
We asked our lovely Hits listeners what their thoughts were on the topic and out of the 1.3k people who voted in our poll, only 27 per cent said that they would consider asking their man to marry them, while 73 per cent said they would prefer to wait and be asked.
However, several Kiwi women who asked their partner for their hand in marriage shared their stories with us – and while not all of them waited for a Leap Year to come around, they definitely made asking sound pretty good!
"I proposed in a Leap Year, but on Valentine's Day," Bex shared with The Hits. "Primarily because I knew he'd had the ring for ages, I could tell each time he was planning to pop the question and something wouldn't go to plan - was stressing both of us out! Together 11 years this year - married for 7. We haven't killed each other yet!"
Emma-Jane shared her proposal story, writing: "I proposed to my fiancé last leap year but didn't do it on the 29th February. I felt it doesn't really matter what day or even year. We have been together for almost 20 years with three kids."
"I proposed to my husband with a kinder surprise egg," said Hits listener, Kelly. "I'd taken it apart and put a ring and a note in the toy section. He loved it and obviously said yes."
"I popped the question to my hubby on our 5th anniversary together," wrote Barbara. "We've been married a year as of New Year's Day."
"I popped the question to my man on the 29th Feb 2004," Clara revealed. "[I got] down on one knee and asked the question. His reply was: 'I knew I should have gone fishing this weekend'."
Clara also shared that she and her husband would have been celebrating their 14th wedding anniversary this year, but her husband sadly passed away in November of 2017.
"I proposed to my husband, not because it was a leap year but because I wanted to. It's our anniversary on Tuesday," said Felicity.
"I asked my husband to marry me on the way to pick up my car from the WOF Centre and he said 'might as well'," Jessica revealed. "Got a warrant and a fiancé in the same day! We got married on New Year's Eve in our backyard."
"Yep I did [propose]", said Lisa. "He was very surprised as thought I would never do it, but called his bluff. We get married next year in April."
"I asked the question and we have been married for 30 years," Fiony shared.
"I proposed to my husband 3 months after meeting him!" Toni shared. "We just celebrated our 11th wedding anniversary!"
Lexy revealed that she only recently proposed to her man, writing: "I popped the question 10 days ago! He's now wearing his lovely engagement ring." Congratulations Lexy!
So, Kiwi ladies, do you think you will propose after hearing all these romantic stories?