Kiwis can now go see 90s rom-com '10 Things I Hate About You' in the cinema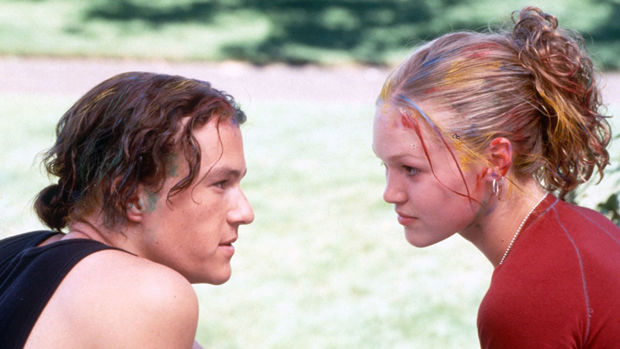 More than two decades on its still easily one of our favourite 90s rom-coms …
And now 10 Thing I Hate About You has returned to the big screen!
That's right, Kiwis who didn't catch it the first time around can now watch the beloved 1999 flick in cinemas around New Zealand.
Based on William Shakespeare's Taming of the Shrew, 10 Things stars Julia Stiles, Larisa Oleynik, Allison Janney, David Krumholtz, Joseph Gordon-Levitt, and of course, the late great Heath Ledger, who shot to fame after the movie's debut.
Honestly, who wouldn't want to watch the film's most iconic scenes on the silver screen including Heath's swoon-worthy rendition on Frankie Valli's classic, Can't Take My Eyes Off You.
10 Things I Hate About You is now showing in Hoyts owned movie theatres in the Auckland, Bay Of Plenty, Canterbury, Gisborne, Nelson-Tasman Bay, Taupo-Central Plateau, Waikato, Wellington, and West Coast regions. Click here to find times for your town.
However, if you can't make one of the showings, you can always pop a bag of popcorn at home and stream the movie on Disney+, Neon, and Apple TV.
The re-release of the movie comes after cinemas across the country have opted to show older movie favourites in lieu of new movie release dates being pushed back due to the Covid-19 pandemic.
Some other titles that are either available now or soon to watch in theatres include the original Ghostbusters, the original 1964 Mary Poppins, Harry Potter, The Rocky Horror Picture Show, Inception, The Devil Wears Prada, The Matrix, Gremlins, The Goonies, Alien, The NeverEnding Story and more!