Limited-edition Arnott's Tim Tam Bouquets are here just in time for World Chocolate Day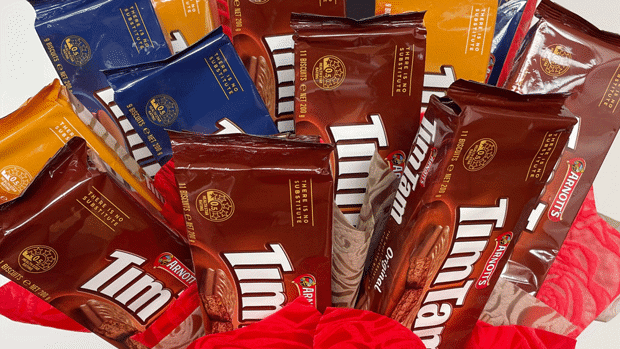 As temperatures around the country dip, Arnott's Tim Tam is looking to stoke the flames of love in celebration of World Chocolate Day on July 7. A limited-edition Tim Tam bouquet has been launched to mark the annual event – a special occasion for people worldwide to embrace their love of chocolate.
Comprised of 12 full-size packets of New Zealand's most in-demand Tim Tam flavours – Original, Double Coat and Chewy Caramel – the one-of-a-kind bouquet is set elegantly in a premium brushed metal tin that can easily be repurposed once the Tim Tam stems are long gone (well… eaten!).
Given New Zealanders ate over 65 million Tim Tam biscuits in 2021 alone, there is no denying the love we have for the decadent chocolate treat – and what better day to celebrate.

Michelle Kitchen, Arnott's Brand Manager, said, "We all need a reason to indulge a little and World Chocolate Day provides us with exactly that – a chance to enjoy and share our love of both Arnott's and chocolate.
"We wanted to make New Zealand's favourite chocolate biscuit available in a way it hasn't been done before. Whether it's a surprise gift for a loved one or you're treating yourself, the occasion is a delicious reason to celebrate with Tim Tam."
Tim Tam bouquets will be available to purchase nationwide from today, Monday, 4 July. To get your hands on one, simply visit edibleblooms.co.nz – but get in quick as limited quantities are available.