Lush's new range of love-filled bath bombs have arrived just in time for Valentine's Day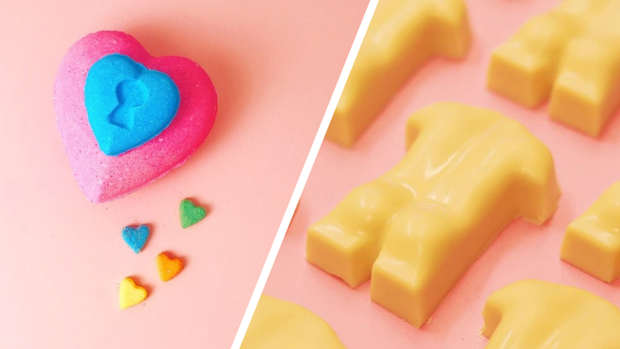 What better way to spend Valentine's Day than with a romantic bubble bath?
Thankfully, Lush has come through once again with the perfect gift for your loved one (or yourself) this Valentine's Day: love-themed bath bombs, including cheeky eggplants and peaches!
That's right, the company known for its delicious bath essentials have upgraded their V-Day collection from last year, with the addition of solid soaps, liquid soaps, massage bars, and bath bombs!
As well as their usual peach and aubergine bath bombs …
… You can get a 'Naked Attraction' massage bar:
There is a new soap, 'Prince Charming', a 'Love Locket' bath bomb, a 'Unicorn' bath bomb, and a 'Love Boat' bath bomb!
They also have a bunch of new knot wraps to tie up your V-Day gifts!
So get your 🍆 ready, and treat yourself to some self-care and a bubble bath this Valentine.
Check out the full lusty range, here.