Man re-animates 'Sleeping Beauty' to create the most heart-melting and elaborate proposal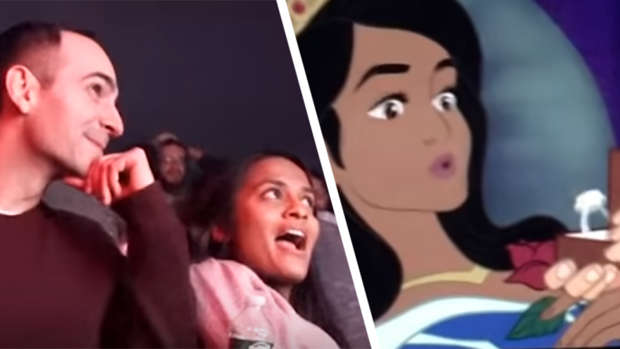 Who hasn't dreamed of being swept off their feet by Prince Charming?
Well, that's exactly what one many decide to do when he proposed to his partner in the most adorable and creative way.
Lee Loechler – a Boston based filmmaker - wanted to make the moment he popped the question to his girlfriend Sthuthi David extra special.
Knowing her favourite Disney movie was Sleeping Beauty, he decided to rework them both into the animated film and surprise her during the slowing of the flick in a cinema, which happened to secretly be filled with their friends and family.
During the film the Prince reaches Sleeping Beauty in her tower and presents an engagement ring, the movie then pauses and Lee takes the engagement ring and turns to Sthuthi.
"I love you with my whole heart, including all of its ventricles, atriums, valves," he says, pausing to explain to the audience that "she's a cardiologist."
He then asks her, "Sthuthi David, MD, will you live happily ever after with me?"
Needless to say, Sthuthi's reaction was totally priceless!
In sharing the video on Instagram, Loechler wrote, "The only thing better than seeing the smartest person I know completely dumbfounded was knowing we'd get to live happily ever after together."
Since it was uploaded, the video has received more than 6.19 million views on YouTube and has quickly become a viral sensation.
What a great start to their Happily Ever After.