Marooned Cows Save Themselves From Grass Island After Earthquake
Publish Date

Tuesday, 15 November 2016, 8:20AM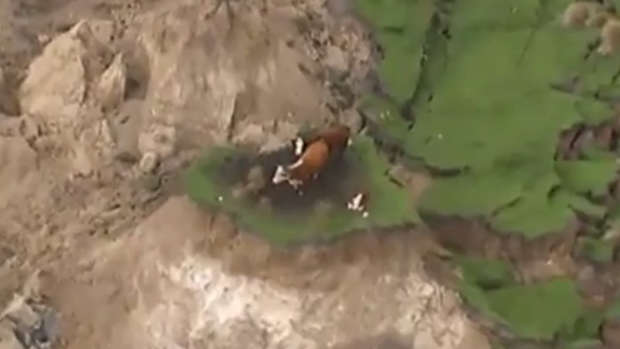 The trio of cows stranded on a grass island in the middle of a massive landslide triggered by Monday's quake may have jumped to safety.
Federated Farmers spokeswoman Katie Milne said no one had yet checked on the marooned cattle this morning but it was possible they were no longer standing on the grassy clump.
Instead, they may have gone in search of greener pastures after taking matters into their own hooves.
"I'm not sure if they have decided to jump down overnight by themselves," she said.
"While it looks treacherous they could put their front foot over the landslide and run down like a person running down a scree slope."
Britain's Independent is describing them as the "luckiest cows in the world".
Milne said the need for more food was a driving force and once one of the beasts had taken the plunge it was likely the other two would follow.
She said it was not normally a difficult job to get stranded cattle off perches safely but in this case, there was a problem for the farmer reaching them across his quake-ravaged north Canterbury farmland.
Read the full story and watch the video on the NZ Herald.