Meet the one-year-old baby chef who has gone viral for his adorable cooking videos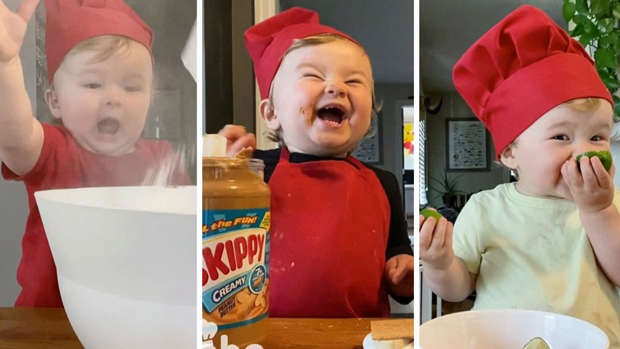 Get ready for the cuteness overload we all needed right now.
Meet Chef Kobe, the cooking baby who is serving up the tastiest meals and warm fuzzies with his viral videos.
At just 1-years-old, the talented tot has gained more than 1.4 million followers on Instagram, which is run with the help of his parents Ashley and Kyle Wian.
The sweet videos show Chef Kobe in the kitchen making everything from mac and cheese, to pizza, to smoothies and so much more.
Speaking CNN,  his mother said: "Cooking is just one of many practical things that Kobe does at home. He has so much fun doing it and such a big, animated personality, I decided to record it to share originally with friends and family."
"We started his Kobe Eats Instagram at the end of February. He had about 200 followers till April 15 then it jumped! 100K, 200K, 500K ... we definitely did not anticipate that! "
"It makes us feel like we're doing something right as parents to be raising a child who has the capability to make anyone smile with just a laugh! We always get messages from people saying how infectious his personality is," she added.
"We also love that it has encouraged parents to get their kids in the kitchen and sit down and eat as a family, something that is extremely important in our home. "
We love it!