Michelle Obama, Taylor Swift and other celebs share outrage at overturning of Roe v Wade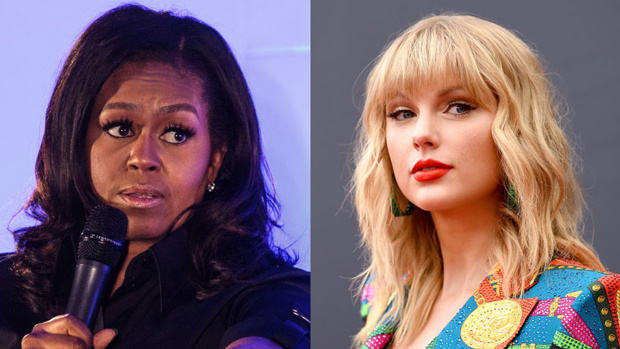 Michelle Obama, Taylor Swift, Olivia Rodrigo and Halle Berry are among the army of outraged celebrities speaking out against the Supreme Court's scrapping of the constitutional right to abortion in the US.

They joined president Joe Biden in hitting out after the lawmakers overturned the landmark Roe v Wade ruling – making terminations illegal for millions of American women.

Mum-of-two Obama, 58, said amid fury erupting across America in the wake of the ruling: "I am heartbroken that we may now be destined to learn the painful lessons of a time before Roe was made law of the land — a time when women risked losing their lives getting illegal abortions."
She warned on in a long statement posted on platforms including Twitter and Instagram: "When we don't understand our history, we are doomed to repeat its mistakes."

Obama then shared links to both Planned Parenthood and The United State of Women Reproductive Justice Hub for those wanting to take action.

Taylor Swift, 32, responded to the former first lady's statement by saying the law change has left her filled with horror, adding: "I'm absolutely terrified that this is where we are – that after so many
decades of people fighting for women's rights to their own bodies, today's decision has stripped us of that."
19-year-old pop star Olivia Rodrigo who appeared at Glastonbury music festival and welcomed fellow singer Lily Allen onto the stage to perform a duet of her 2008 hit 'F*** You' as a reaction to the overturning of the landmark Roe v Wade ruling.
Olivia said: "I'm devastated and terrified. So many women and so many girls are going to die because of this. I wanted to dedicate this next song to the five members of the Supreme Court who have showed us that at the end of the day, they truly don't give a s*** about freedom. The song is for the justices: Samuel Alito, Clarence Thomas, Neil Gorsuch, Amy Coney Barrett, Brett Kavanaugh. We hate you! We hate you."
However, the 'drivers license' hitmaker - who shot to global fame back in 2020 after her music went viral on Instagram -  was thrilled to be at the annual music festival in Worthy Farm sharing the stage with Lily, who could be seen swearing with her middle fingers as Olivia rhymed off the names of the justices.
She told the crowd: "This is actually my first Glastonbury and I'm sharing this stage with Lily, this is the biggest dream come true ever. But I'm also equally as heartbroken about what happened in America yesterday!"
The song - which was written by Lily back in 2008 and featured on her sophomore album 'It's Not Me, It's You' - was initially inspired by then-President  George W. Bush, who Lily described as a "f****** a********."
Some of the lyrics include: "F***you, f*** you very very much
We hate what you and we hate your whole crew, so please don't stay in touch."

Actress Berry, 52, branded the overturning "b*******" and a "war on women."

The star seethed: "I'm outraged! What the supreme court has done is B*******. Something has to be done! Guns have more rights than women. Stop this war on women and keep your laws off of our bodies. We have to band together and NOT accept this! We can't just post about it, we must DO SOMETHING about it."
Actor and Family Guy creator Seth MacFarlane, 48, called it part of "dystopian sci-fi" and added "how much farther this will go depends on American voters".

Actress Busy Philipps, 42, called it a "sham", and said: "It doesn't end here. "F*** this sham. F*** these people. If you're a single issue voter and your issue is your taxes, f*** you too. This Supreme Court is on you."

Music producer and songwriter Finneas, 24, was also among the droves of famous faces sharing outrage online, saying: "I don't even know what to say other than absolutely f*** this."
Meanwhile, Paul Walker's daughter has revealed she had an abortion in the wake of the Roe v Wade overturning.

Model Meadow Rain Walker, 23, joined the army of other females sharing personal stories and outrage at the Supreme Court's rejection of the landmark 1973 ruling, leaving terminations illegal for millions of women in America.

She branded the decision "a huge setback in history" and "a profound injustice to women across the United States", before revealing she had an abortion.

Walker added: "There are countless women who have struggled with making the decision to have an abortion.
 "I too battled with the choice in 2020, when the world was collapsing during the pandemic, I sought an abortion. It is a very private and personal experience – the way it should be."

Walker, who runs her late 'Fast and Furious' actor father's foundation set up after his 2013 death in a fiery car crash following a fiery car crash, said she had been "lucky enough to have a great doctor" who "supported" her through the "debilitating process", which has left her "able to be the happy and healthy person" she is today.

But she warned Friday's ruling will have tragic and disastrous consequences for other women.

She hit out in a lengthy Instagram post: "Now, knowing even more women won't have the opportunity to seek safe termination and choose their bodies first is absolutely heartbreaking.

"In a world that constantly marginalises females, this feels like the biggest assault of them all. Banning abortion doesn't prevent abortions, it prevents safe abortions."

It comes after 'Dancing with the Stars' pro Cheryl Burke, 38, opened up about having an abortion aged 18.

She said on TikTok: "I am saddened by the news this morning, and it weighs heavy in my heart because I had an abortion when I was 18 years old.

"If it wasn't for places like 'Planned Parenthood', I would be a mother… I got an abortion while I was going through a really huge transition in my life.

"I was practicing safe sex, I was using protection, and I was on birth control, but s*** happens."

The 1973 Roe v Wade battle centred around 'Jane Roe' – a pseudonym for Norma McCorvey.

She was a single mother pregnant for the third time who wanted an abortion, and sued the Dallas attorney general Henry Wade over a Texas law that made it a crime to terminate a pregnancy except in cases of rape or incest, or when the mother's life was in danger – arguing the law infringed on her constitutional rights.

Joe Biden blasted the ruling as "un-American" in an address from the White House, adding it was a "sad day for the court and the country" and calling the move "wrong, extreme and out of touch".
- Bang! Showbiz