Mother mortified after supermarket censors son's graduation cake
Publish Date

Thursday, 24 May 2018, 11:00AM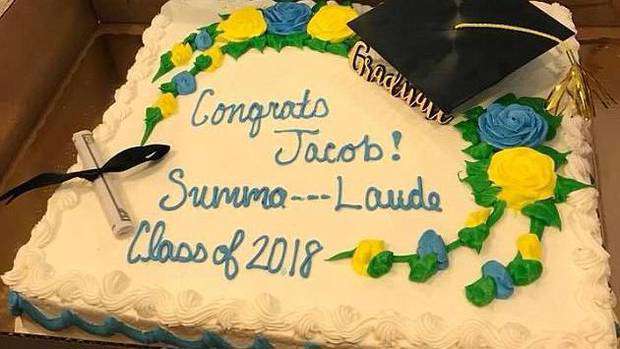 A South Carolina mum was less left red-faced after her son's 'Summa Cum Laude' graduation cake was censored for profanity.
Cara Koscinski, of Charleston, ordered the $70 cake from Publix to celebrate her son Jacob graduating with the highest honours from a Christian-based home-schooling programme.
But when she tried to enter the special message for her son, "Congrats Jacob, Summa Cum Laude, Class of 2018", the website flagged it with an error message informing her that profane or special characters weren't allowed.
Undeterred, she added a message in special instructions, clarifying that the Latin phrase, meaning 'highest honours', was in no way rude or profane, the MailOnline reported.
Yet when her husband arrived home with the cake, the family were stunned to find that the bakery had taken the extraordinary step of replacing the word 'cum' with three dashes.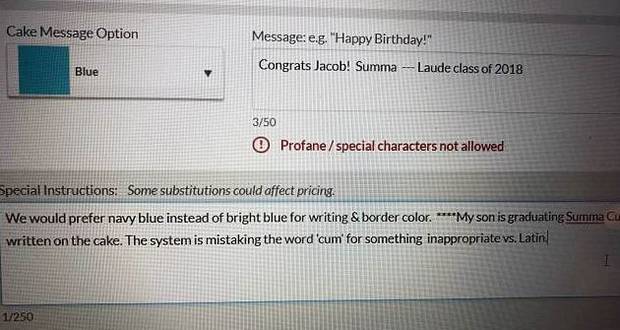 Photo / Facebook
"How utterly ridiculous," Koscinski wrote in a furious Facebook post, where she explained she'd been stuck in the unenviable position of having to explain to her family, including her elderly mother, why Publix, a supermarket chain, had confused the Latin phrase with something else.
"Publix refused to write the words Summa Cum Laude because I was using 'profanity!'
"Shame on you Publix for turning an innocent Latin phrase into a total embarrassment for having to explain to my son and others (including my 70 year old mother) about this joke of a cake.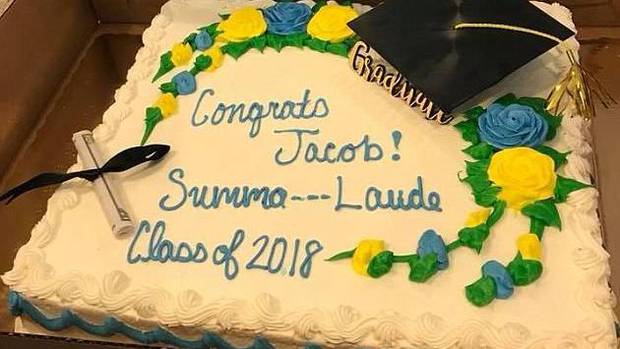 Photo / Facebook
"My mother had no idea what that was! I think me having to explain it to her was the worst part!!' Koscinski, a speaker and course creator in autism and occupational therapy.
"My son was humiliated! Funny-not funny."
Jacob, who should have been celebrating graduating with a 4.79 GPA, added that his friends were in hysterics over the unfortunate mix-up.
"The cake experience was kind of frustrating and humiliating because I had to explain to my friends and family like what that meant. And they were giggling uncontrollably. At least my friends were," he told WCIV.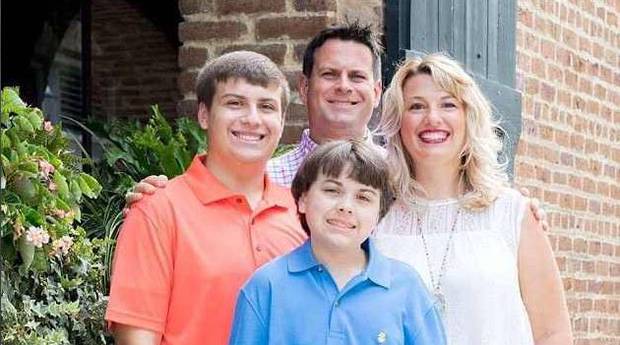 Photo / Facebook
The Publix, on Savannah Highway, east of Charleston, has since apologised for the mistake and offered a full refund.
"It's fine for us to be compensated for the cake. We're just happy that our son graduated school and has a bright future," said Cara Koscinski.
Jacob plans to major in pre-med at Wingate University.
Publix has not commented on the incident.
This article was first published on Daily Mail and is republished here with permission.