Mother of quadruplet babies shares amazing before-and-after pregnancy photos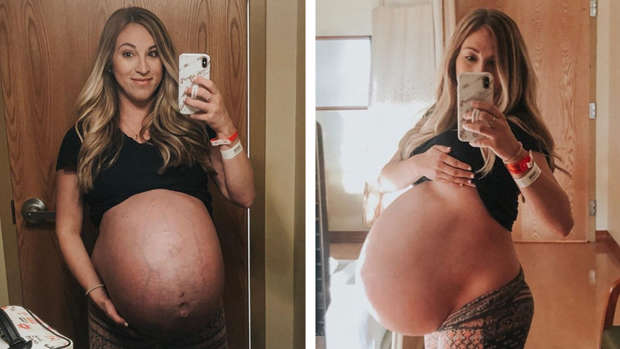 A mother of quadruplets has gone viral after she shared incredible photos of her before and after pregnancy.
After suffering multiple miscarriages, Lindsay Hay welcomed Caiden Michael, Madison Grace, Lucas Willam and Grayson James into the world on July 23, 2019.
Before giving birth, doctors warned the petite woman that her "body wouldn't be able to handle it."
But she proved them wrong, and now seven months on the proud mum has a side-by-side snap, which has earned more than 69,000 likes on Instagram. The photo shows Lindsay at 30 weeks, sporting a very large third-trimester baby bump and next to that is a photo of her holding her four adorable bundles of joy.
"IN & OUT DAY!," she wrote alongside the photo.
"I carried these sweet babies for 30 weeks and 4 days on the inside and here they are at 30 weeks and 4 days on the outside!
"Full hands, full heart is an understatement! They have surpassed every hope and dream I had envisioned during my pregnancy and even though time is passing quickly I know the best is yet to be.
"Behind these babies are new marks, rolls, and skin you can't see but they also came with new strengths I didn't have before either.
"We have been so BLESSED and I won't ever let myself take this life for granted."
How amazing is that?!