Mothers left horrified by very realistic nappy cake
Publish Date

Tuesday, 3 October 2017, 1:30PM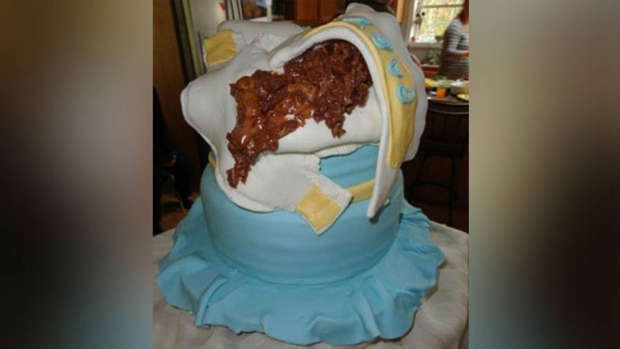 Mothers have been left horrified by a very realistic illusion cake - that looks just like a soiled nappy.
A photograph of the bizarre creation was shared on Mumsnet, along with the comment: "This has to be one of the nastiest cakes I've seen!"
Other members of the parenting forum were quick to react, describing the cake as "repugnant", the MailOnline reported.
However, some people did see the funny side, suggesting that the cake was probably commissioned for a baby shower.
Sharing a picture of the bizarre cake on the forum, one Mumsnet user questioned: "AIBU [Am I being unreasonable] in wondering who the f*** would order this cake?????"
She explained: "Now I like a joke as much as the next person. I even find those kids toys that poo and fart that are all the rage now marginally funny.
"But this has to be one of the nastiest cakes I've seen!"
Others were quick to react, with one writing: "That cake is repugnant." Another added: "Is that a s****y nappy on a cake? How appetising!"
However, others confessed that they found the unusual creation rather amusing.
One member of the parenting forum wrote: "I think they're hilarious! But then I have a juvenile sense of humour."
Another suggested the cake may have been a "joke for a baby shower", but admitted it was "still odd".
Some meanwhile recounted their own stories of bizarre baby shower cakes.
One Mumsnet user said: "I once when to a baby shower where there was a childbirth cake complete with baby's head crowning, fake blood and even a little poo".
This article was first published on Daily Mail and is republished here with permission.