Mother's warning to parents after toddler suffers second-degree burns at a playground
Publish Date

Wednesday, 14 November 2018, 11:59AM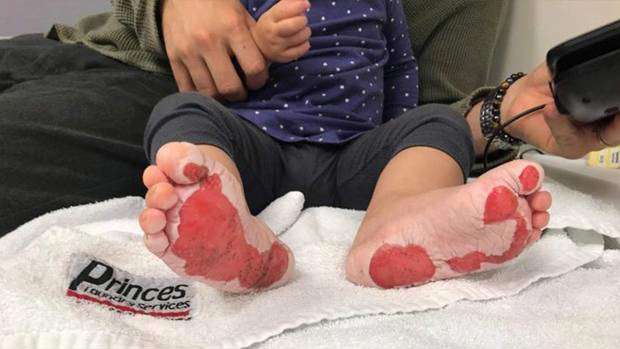 There's nothing better than getting the kids outdoors and having some fun at your local playground.
Not only does the play equipment keep kids happily occupied, it also gives parents the chance to unwind.
But one Queensland mother has taken to Facebook to warn parents of the hidden dangers on the surfaces of children's playgrounds as summer looms.
Simone Pickering shared a PSA following the horrible moment her 18-month-old daughter suffered second-degree burns to the bottom of her feet while playing at an Ipswich park.
The young toddler suffered the horrific injuries after she stepped barefoot on to a metal plate and was injured in "seconds".
Sharing photos of her daughter's feet on social media, the concerned mother said: "Our daughter just happened to walk a short distance from where myself and family were sitting to find herself paralysed, standing on one of these scorching-hot metal plates unable to move due to the intensity of the heat below."
"In seconds the damage had been done. We instinctively tried to get her feet into cool water, only to have her hysterically screaming and needing extra care."
READ MORE:
• This mum's hilarious "PSA" for parents raising boys will have you in fits of laughter!
• Pink shares heartfelt message with adorable snap of son that every parent will relate to
Simone rushed her daughter to Lady Cilento Children's hospital where she was pumped with painkillers and underwent surgery, but the severe blistering and burns mean she will lose some feeling in the bottom of her feet for the rest of her life.

"The drive to the hospital was the most horrific, heartbreaking 10 minutes of my life to date," she said.
"Watching her tiny little body laying limp on the hospital bed with cords and tubes running everywhere crippled me."
"To hear the unbearable pain your child is in and not be able to soothe her or take it away messes with your head," she posted on Facebook.
"[I am] angry that even after a full recovery, our daughter will never truly know what is normal feeling in her feet as she won't have any prior memories to draw upon being that she's only 18 months old."
Following the incident, an Ipswich City Council spokesperson said the metal plate had been coated with a heavy paving paint to keep it cooler in hot weather.
The surfaces of children's playgrounds have been found to reach skin-burning temperatures, with astroturf reaching temperatures of almost 90 degrees Celsius and 'soft fall' rubber reaching 80 degrees Celsius in hot weather.