Mum finds daughter's 'sex toy' in dishwasher
Publish Date

Friday, 11 August 2017, 7:00AM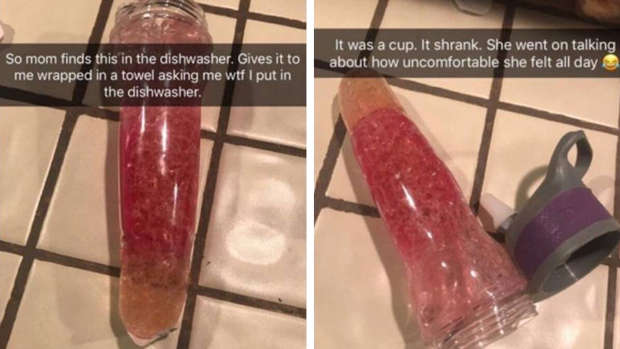 While it may sound like a strange place to put a vibrator, a mum thought her daughter had done just that when she discovered a strange looking object while unloading her dishwasher.
Sharing the awkward scenario on Reddit, the woman said her mother was so shocked by her find, that she wrapped it in a towel and gave it back to her daughter, asking her to "please explain".
While the explanation was innocent enough, it didn't stop her mum from feeling "uncomfortable all day", even after she was told the item was, in fact, a shrunken drink bottle cup.
"It was a cup. It shrank," the woman wrote on Reddit. "She went on talking about how uncomfortable she felt all day," she continued.
And as it turned out, she's not the only person who's fallen victim to the old "shrinking cup" gag: Another user posted a similar image of her bottles melted into similarly phallic shapes.
There are at least two takeaways from this unfortunate occurrence:
1. These "cups" are clearly not dishwasher safe. 
2. It always pays to check the label in order to avoid similarly awkward conversations.
This article was first published on NZ Herald and is republished here with permission.